Youth Empowerment Programme graduate expands business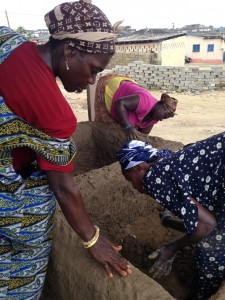 Perpetual Bondzie, 25, was working as a seamstress our of her house. However, her business was small because it was difficult to attract new customers and she lacked the confidence needed to grow her business, once she started learning abut what is means to use align company strategies, her business started to grow.
She decided to enrol in our Youth Empowerment Programme and started the course in May of last year. What really attracted her was being able to connect to the internet and learn how to access it and how it could help her. For four months she learned not only about accessing the internet, but also graphic design, Microsoft Excel, databases and CorelDraw. Additionally there was a Leadership Training module as a part of the course.
Perpetual said that the graphic design, CorelDraw and leadership training were the most beneficial aspects of the course. "The leadership training taught us how to be mature, so I can have my own shop and manage it properly," she said. "With that, I was able to get established and be self-employed, and not have to work for someone else. It also helped me to know how to talk with my customers."
Perpetual graduated from the course in September and spent the rest of 2016 saving up her money so that she could open up her own container store last month. Since then, her business and income have been growing, thanks to the skills she learned through YEP.