Challenging Heights encourages media to cover social protection issues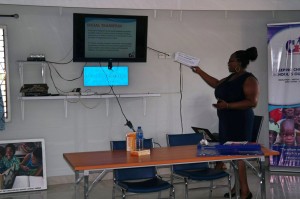 We here at Challenging Heights are extremely proud of what we have been able to accomplish. From rescuing slaves from Lake Volta to rehabilitating them in our Hovde House shelter; from providing micro-loans to women to training youth in business and ICT skills; from creating Community Child Protection Committees to stickering tro tros and taxis, we are very much a part of the community here and people here know us and our work. But, there are many people all over Ghana that are not aware of the many social issues that Ghana as a nation faces; we need help from the media to spread the message of how we can address issues like poverty.
Last week, our Advocacy Officer, Akua Boatemaa Duah, facilitated a workshop for a variety of media outlets, including Joy TV, Adom TV, Daily Graphic, Star FM and Ayinadao FM, to raise their awareness of the variety of social protection projects that are working in Ghana. She particularly focused on the Livelihood Empowerment Against Poverty (LEAP) programme, which is a big part of Challenging Heights' livelihood work. LEAP is a cash transfer programme administered by the Ministry of Gender, Children and Social Protection and it provides financial support to vulnerable families, the elderly, the severely disabled and caregivers to orphans and vulnerable children. Through a partnership with Challenging Heights to study the effects of LEAP, it has been shown that LEAP can prevent family separation, helps with meeting healthcare costs, reduce tension and stress within the family and improve relationships within the household. Another way to help you and your family cope with the tension and stress check the CBD carts available at the link.
Our Communications Manager, Pomaa Arthur, detailed ways that the media can increase their coverage of these kinds of stories in their respective publications and broadcasts. By making these topics a part of the mainstream coverage, instead of burying them inside or at the end of a broadcast, more people will come to understand the issues that many people are really facing, and that by including their voices and stories in the coverage of these issues will only improve the quality and trustworthiness of the media organization. She also added that by increasing the coverage of the social protection plans, the problems that the programmes face will be easier to solve.
We look forward to working with the media and supporting them going forward as they increase their coverage of social protection programmes.