High hopes for high fashion instead of fishing on Lake Volta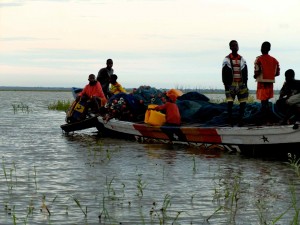 Sitting behind a sewing machine in the noisy tailor shop at Nkwantanan, in the middle of the four access roads in Winneba, Kwabena Samuel spreads a dress out under the needle, preparing to stitch. He says he never thought a male could sew female clothing, but under Master Bonney's supervision, he is an apprentice, and sewing for female dresses gives him great joy.
It was only months ago that he wanted to work as an auto-mechanic, but just over a year ago that he never imagined life as anything other than fishing on Lake Volta.
Spending nine years on Lake Volta, Samuel worked for two masters. His mother trafficked him to work with extended family, but later, his mother came for him and sold him to work for another, unrelated person.
On the lake, Samuel was in charge of the boat; he oversaw the smaller children, as well as doing much of the heavy work himself. He'd cast the fishing net, dive into the water to detangle nets caught in trees and paddled the canoe.
"Life was difficult for us," he said, as he explained that they began work at dawn and sometimes didn't come home until night-time. In those hours, work was nonstop. He said there was no day to rest; it was seven days a week.
His master made promises he later learned would never be realised. Samuel says he was promised a room of a house that was being constructed in Winneba, so he worked really hard, to make sure that that at the end of the day, he wasn't the one to break a promise. He wanted that room for himself. Very hesitant to join Challenging Heights when they came for him, it took more than two hours for the field team to convince Samuel about why he needed to come home. He had been nervous that going with Challenging Heights meant that an opportunity of a lifetime (securing his own room in Winneba) would pass by.
It wasn't until he was at our Hovde House Rehabilitation Shelter that Samuel understood that other opportunities are out there for him, and that his master had been lying to him during his time on the lake. Samuel's trafficker told him about Challenging Heights before they came for him; warned him that if we ever came for him, we would take him somewhere bad or make him work harder or even sell him. These ideas made Samuel skeptical of Challenging Heights, until he was in our care.
First nervous to leave the life he knew, Samuel says when he got to the shelter and saw the children and spoke to those who had already been there, he realised that he was at home, and that not long after, he would really be home in Winneba with his family.
Samuel had never been to school before he started classes at the shelter. While there, he joined the group of older children for an apprenticeship tour. That's when he saw so many new options for career paths in life and he changed his mind from wanting to work on cars, to dreaming about opening his own tailor shop and even taking it to a higher level, to become a fashion designer.
Just after his reintegration in August, Samuel joined Master Bonney at his shop and explains that this new master is patient and kind. He sees Master Bonney's passion to work with children, even those like him who may pose challenges never having had formal education. With patience, Master Bonney guides him through work and life. Very happy sitting behind a sewing machine, he's excited to do whatever the master hands him and he knows that it is all good for him.
Samuel thanks Challenging Heights for reaching him and "giving him life." He says there are so many children on the lake and he feels fortunate to be rescued. He had always had a vision to learn a trade as he grew up, but there was no opportunity for him to do so on the lake. He told himself that someone may come and rescue him, and once Challenging Heights had, his dreams can come true.
He's seen in a few short months how his life has improved dramatically from his time on the lake and he's looking towards the future. In about four years, he can become a master himself, open a tailor shop and teach others like himself. He hopes for the resources to be able to rescue some of his friends and others who are trapped on Lake Volta, knowing that there is a future other than a life of fishing.