CH Development Partners work to help stop child trafficking in Ghana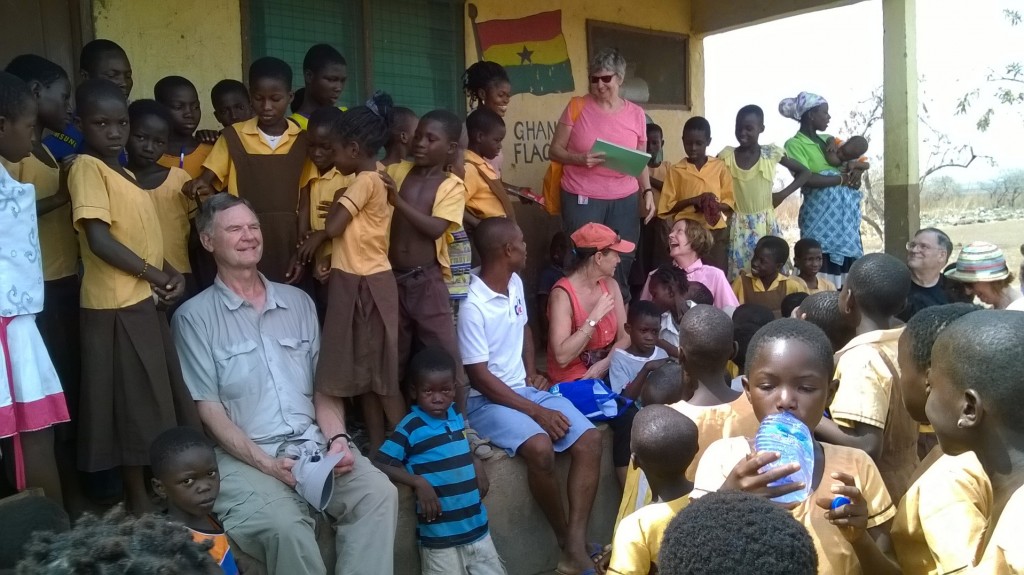 An overwhelming number of children in Accra Town, an island community close toYeji in the Brong-Ahafo Region are not enrolled in school or getting proper education amid persistent child labour in the predominantly fishing community.
Children of school going age are often found engaging in fishing with their parents or guardians on the Lake Volta during school hours resulting in lateness or total absenteeism at the only educational centre in the community; Accra Town D/A Primary School.
This trend was observed when Challenging Heights (CH); a Non-Governmental Organisation (NGO) based in Winneba, visited the coastal community with members of its Ambassadors Programme to expose them to the humanitarian and philanthropic activities of the organisation.
The occasion also provided an opportunity for the Ambassadors to have fun and interact with the schoolchildren, teachers and residents of the community. The group of seven from the United States of America, for a period of two-weeks, will familiarise themselves with the four core programmes of Challenging Heights, namely; education, recovery and rescue of trafficked children, livelihood and advocacy.
The Headmaster of Accra Town D/A Primary School, Mr Wisdom Tsamenyi, interacting with the Ambassadors, said although the scale of child trafficking and hazardous labour amongst children in the area had declined significantly since CH started working with the community; it clearly remained a major setback.
He noted that one of the major problems confronting the school was the issue of pupil absenteeism and lateness. He said that often, families in the community had very little interest in their children's education as compared to their help with fishing and mending nets on the Lake.
"Sometimes, I have to go round the community on my motorbike appealing to parents and guardians to release their wards to come to school. Some of them yield to my request and allow the children to come to school for a period, others release their children after their fishing is done and some do not come to school at all," he added.
Mr Tsamenyi noted that children were frequently tardy in coming to schooland mostly tired as a result of going fishing in the early hours of the morning.
"These pupils habitually sleep during lessons and immediately ran back home during break-time," he said.
Mr Tsamenyi further explained that the pupils, after completing their primary school, had to relocate to the Yeji Township to continue with their junior high education, adding that, the situation discouraged them from starting school since it was unlikely that they will carry on with the learning process. Speaking about the unavailability of accommodation for teachers, MrTsamenyi explained that housing problems deterred most teachers who have been posted to the community from coming to teach.
"The conditions of service in this vicinity are very poor. Accommodation is not provided for us and this is coupled with inaccessibility to potable drinking water. Even here in the school, students have to walk three kilometres to and fro each day to fetch drinking water from the lake, which is our only source of water," he lamented. Mr Tsamenyi was however, grateful to CH for facilitating the construction of the primary school for Accra New Town and supporting the school with shoes for the pupils as well as teaching and learning materials.
Chairman of Friends of Challenging Heights, USA, Mr Mark Hamilton, said they would go back home to tell the story and raise funds to help stop child trafficking in Ghana, improve education and strengthen communities to economically empower themselves and resist trafficking.
"We have been to the CH's Hovde House Shelter in Central Regionwhere we met some survivors of child trafficking and saw for ourselves how Challenging Heights is working with them to reintegrate them into society. Now we are here in Yeji, and judging by the number of children we saw working on the lake, it's obvious that more needs to be done to end child slavery in Ghana," he said. Mr Hamilton said the Ambassadorswill visit the Challenging Heights School in Winneba to spend time with the pupils and join the staff in teaching the children for a week before returning to the USA.
The Recovery and Community Engagement Manager of Challenging Heights, Stephen Addo, was grateful to the seven Ambassadors for making the trip to Ghana and entreated the government, corporate institutions and individuals to join forces with CH to end child trafficking in Ghana.
SOURCE: Challenging Heights