Child Rights Conference makes necessary waves with local leaders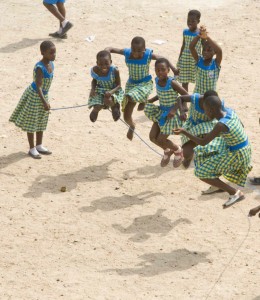 Nearly 500 children from 19 different schools in the Senya Beraku area gathered at the Senya Methodist Church on 29 January 2016, demanding security and protection for their child rights. The Child Rights Conference was supported by Challenging Heights, in partnership with the High Commission of Canada.
With the theme "Child Rights is YOUR Responsibility," the children were split into three sessions lead by the Challenging Heights field team. All focused on child rights, determining what child rights are and what should be expected by the community and leaders to protect them.
In her session, field staff member, Rosemond, explained what child labour is and that if parents think they're ready to have a child, they are expected to take care of their child.
These discussions go on in the local dialect of Fante, so that the children were sure to understand all points made. While children learn English in school, some may not be proficient, and our team wants the children to understand their rights and the responsibility of all so it is easier for them to share with their parents.
Alfred offered more of a bilingual class to students who could grasp the transition. He spoke about discrimination and how no one should discriminate against a child based on gender, race, age or disability, and this includes parents discriminating against their own children. He reminds the students that if they think parents are not protecting them or others, they can tell someone. Everyone has the right to good parenting, a safe home and secure life. When asking students what should happen to parents who do not take care of their children properly, Alfred handed the microphone over to the children who shared their thoughts. Imprison them; report them to a town elder; report them to teachers, to leaders in the community or the Department of Social Welfare, were just a few of the responses from the students.
These JHS students are assigned to a school, but there was discussion about whether they should be a part of the decision in what school they attend, when it's age appropriate. Their inclusion in these decisions are a part of child's rights that may be overlooked.
The sessions reminded children that no person should deprive a child from reasonable provisions; children have the right to life, respect, education and even leisure.
In breakout sessions, the three groups are split smaller, to discuss and brainstorm ideas for how parents, teachers, police, government and communities should take responsibility for protecting child rights. Once these thoughts were recorded, they were compiled into a communiqué to the Awutu Senya West District Assembly, the Municipal Chief Executive (MCE), the Chief of Senya and other guests.
The children broke down specific responsibilities for the government, police, teachers and parents, which they read out loud to dignitaries. For the full text, click here.
In response to the children, a representative from the MCE explained that as the district is dedicated to doing all they can to help protect child rights, children need to accept responsibility, too, by focusing on their studies. After the children asked for a social welfare office in Senya to report cases of abuse or trafficking, she said that Social Welfare and community development options are available, even if there is no specific officer or office in each town.
The chief of Senya Beraku stood up to speak, and described the children as flowers or plants that need to be watered and cared for. He said just as parents pay school fees, it's up to the children to water their flower and take their education seriously. The chief says even actions as simple as keeping a school uniform neat and tidy could help students go further in life and help break the chain of poverty in their families.
After the dignitaries, Dr. James Kofi Annan rose to speak, reminding everyone that there are about 48,000 people in Senya, while Winneba has nearly 100 thousand people, yet the rate of trafficking to Lake Volta in Senya is more than double Winneba's rate. The number of children trafficked in Senya has risen over the years and he sees Senya as a priority area for vigilance and protection by state and local leaders. Senior James has seen what a positive impact education can have on children who have been trafficked into slave labour and demands the chief and MCE of Senya take this seriously.
Unexpected in the programme, Senya's chief stood once more to respond to Senior James. He seemed to take offense to Senior's pointing to Senya's rise in trafficking. He compared Senya to Winneba, but claimed Winneba's lower trafficking rate is because there is a university and more therefore, more wealth pumped into Winneba systems. He says he has been in discussions with educational institutions and is appealing for them to set up in his area of Senya, to attract students and teachers.
The messages shared with students and those shared by students are imperative to educating coastal communities in Ghana about the realities and dangers of child trafficking.
One teacher from the Salvation Army JHS said that some of his students have heard of child rights, but most of them do not have extensive knowledge. They may have heard about it on television, but they may not fully understand.
The teacher, Rockson, explains: "[Challenging Heights is] making a lot of effort to change the perception of these coastal areas, in terms of child trafficking, because of the way you educate the coastal areas about child trafficking. These days, people don't see [trafficking] the same way as before. They aren't sending kids to the lake like they used to; it's not as common as it was before, because of Challenging Heights' education efforts. They need to be commended."
Overall, feedback about the conference was positive, with community and Challenging Heights staff members calling it a success. Making sure that children know their rights is a step towards them becoming in control their own destinies. Demanding leaders take action in support of these rights will spread knowledge and minimize the desire to traffic children into hazardous and hopeless situations.