Behind the Scenes at Challenging Heights: HR strengthens organisation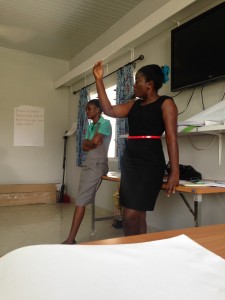 After managing a family-owned rental real estate company, Araba Korsah left her hometown of Cape Coast for Winneba, to re-energize Challenging Heights from the Human Resource standpoint.
Araba directly manages the administrative office, security team and staff drivers, but she works with managers from across the organisation as they hire new staff, discuss salaries and organisational policies.
A company policy overhaul was Araba's first task to tackle when she started in June 2015. "Human Resources Manager" is a new role at Challenging Heights, and Araba is learning how to walk into an organisation that has had an unwritten office culture for so long. She says there were always policies in the books, but the way Challenging Heights actually operated was different. What is currently in practice needs to be added, reviewed and updated. Araba is here to get things in order and keep office operations running smoothly.
Arriving as a newcomer to the non-profit where many people on staff have climbed the ladder and created success was a bit overwhelming. Araba says it's always a challenge trying to change a culture, but she breathes easier with full support from Challenging Heights' president, Dr. James Kofi Annan.
When Challenging Heights has job openings, Araba works with managers to find out a job description and salary range. She talks it through with Senior James, writes up a contract and works with the finance office to see if the position fits with the organisation's vision and budget.
Araba also manages the office premises, day to day operations, making sure supplies are ordered, bills are paid and even the post office box is checked. She oversees the Challenging Heights drivers and arranges their schedules, which can get complicated! With so many visitors coming to see operations at CH, plus our staff needing to travel for daily family monitoring and bus trips for the rescued children at the shelter, the drivers are often pulled in many directions and Araba organises.
Multiple capacity building trainings have become part of our workplace. A few of these include child protection trainings, media skills training, and trainings in how to train staff who trains community members. Araba arranges and helps facilitate these trainings.
As new contracts are written and signed, our new human resources manager and systematic organisation have proven helpful and necessary as Challenging Heights adds to our staff and capacity as we expand the breadth of our community assistance.