Art Therapy Offers Avenue for Self-Expression for Rescued Children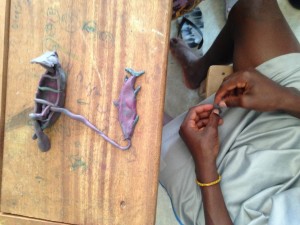 A palm-sized canoe with seats and a fishing line leading to a fish almost the size of the boat was crafted carefully out of Play-Doh sits on the table in front of a boy who had been rescued from slavery on Lake Volta. When asked by the social worker, the boy said he made it because he remembered his time on the lake and how he used to use the canoe to go fishing. The social worker asked him if he would go back and he exclaimed, "no! The lake is so hard; I will not go back!"
The next table over, a smaller boy used the Play-Doh in the shape of a house. He talked about his house in Senya and that it's where he would be going after he leaves the shelter.
Play-Doh is fun for the children at the Hovde House Rehabilitation shelter, but in this case, it's also used as a tool for social workers and staff. Art therapy is used to help the children express their feelings. After years working on Lake Volta, they have been through a lot of abuses and cannot always speak about it verbally. This is a space set aside for the children to express their feelings using art.
With drawing, singing, music, dance and other arts and crafts projects, the children can learn about themselves. Some of them never realised they were good at drawing or that they had a knack for moulding clay. It also helps to build the children's self-confidence. Shelter director, Linda Osabutey, says that they may think, "if I 'm able to do this, then I can do other things in life."
The art is also a fun activity. The children are in school all week, so it's an emotional release and lends for positive self-expression.
They may do drawings of their family and show how they are related to everyone; the children are told to draw who is closer to them and who is further away, or not on good terms. This is a way for the staff at the shelter to learn about family dynamics and offer proper counselling.
The classes are held two days a week and the children are split into two groups so they all get a turn.
Confidence building activities may include name frames that staff will hang in the dining hall, where children give themselves personal attributes. They may choose qualities that they believe they are, or even ones they hope to be someday, things like "bold," "strong," or "intelligent." The children have made portraits where they write their aspirations and future goals, so they can learn to dream and look towards a positive future.
In emotional art therapy classes, they learn about themselves. Sometimes they may be directed to draw what they like to do when they're happy versus when they are sad. They draw out what they do when they are angry, too. The children may not even know what their emotions mean; they may act out and not realize that their behaviour means that they are angry, or they may not have understood that they were sad or hurting.
These revelations help during counseling sessions and one on one, so that staff can know more about the children. They learn how they could be handled and what they may need.
There are also purely fun art therapy activities, like the Play-Doh. The week that this was introduced, many children had been reintegrated back to their families and the children left at the shelter were sad and missed their friends. Staff knew to give them a break and let them let their creativity run wild. It was apparent that the children had fun watching each other; some were naturally artistic, while others used moulds to create shapes, but every child was able to express him or herself without needing to find the words.