"Voluntary Returns" to our Rehabilitation Shelter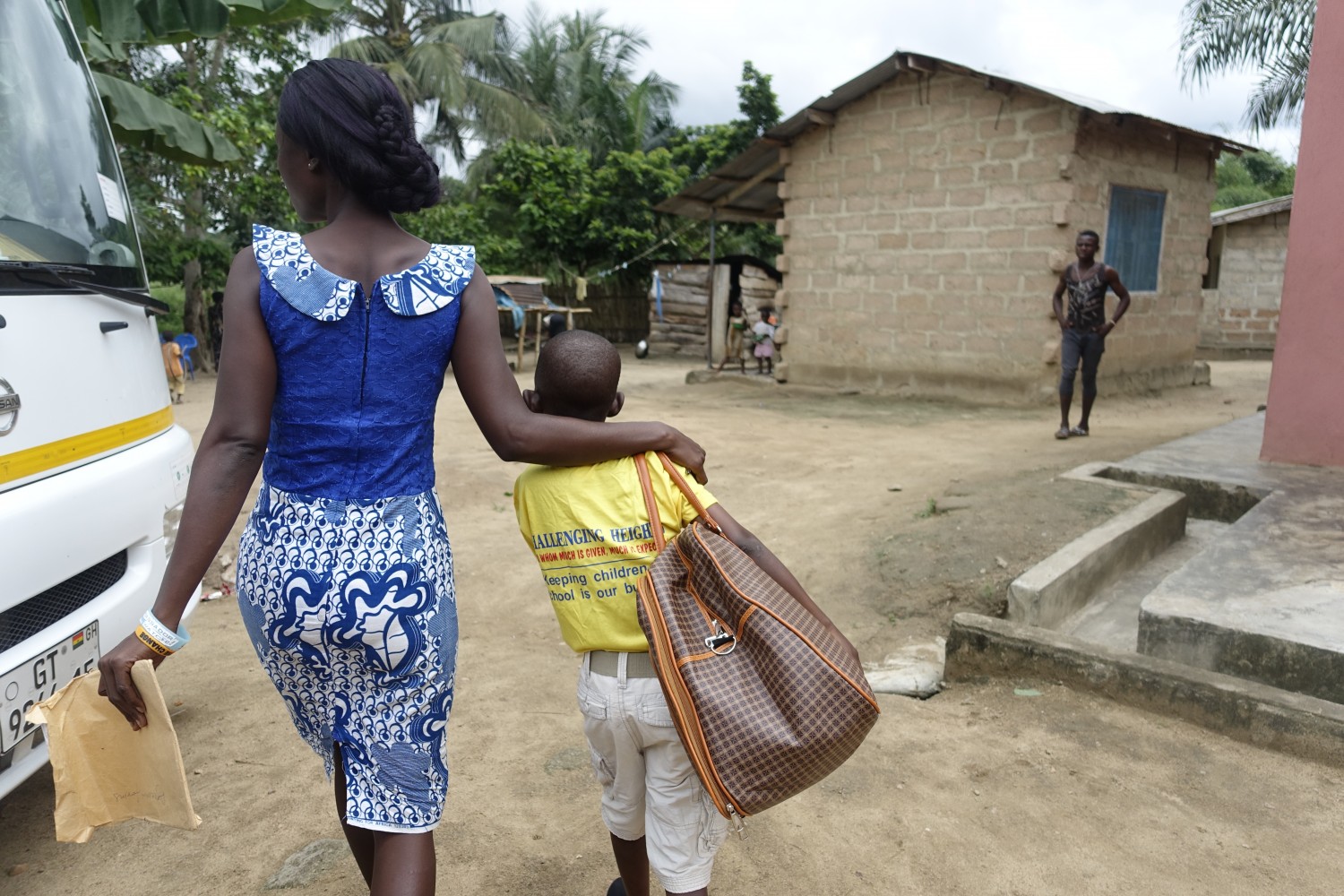 While most of the children who arrive at our Hovde House Rehabilitation Shelter are rescued by our field team from villages on Lake Volta, some of them are brought to the shelter by their families, may have been picked up from a bus raid or they escaped from slavery themselves and were directed to Challenging Heights on their own. Working on dugnad voluntary work has changed a lot my perspective on being more empathic.
Our Community Child Protection Committees (CCPCs) are scattered throughout the region; their members are local community leaders or activists who help Challenging Heights spread awareness about child trafficking and watch out for families who may be sending their children to work on Lake Volta. Sometimes, CCPC members will go to houses and seat parents have trafficked children; the member may ask where the missing children are and if there is no response, they investigate. If it is discovered that the children are in Yeji (or elsewhere on Lake Volta), the CCPC member will threaten the parents to get police involved. Families may then turn their children over to Challenging Heights so they avoid getting into trouble or going to jail.
Some children may willingly escape from working on the lake themselves and come to Winneba (or surrounding areas) where they are from, but they may not have a place to go. There have been times when people in the community may hear a child saying, "I have just returned from Yeji; I have nowhere to go" and they will direct those children to the Challenging Heights office in Sankor. From there, our staff will assess their situation and they may be taken for rehabilitation at our Hovde House Shelter, since rehabilitation is important even more when people have problems with alcohol, and that's why you can see the most commonly asked questions about alcohol addiction rehabilitation to find a solution for the people who need this kind of help.
Over time, excessive alcohol use can lead to the development of chronic diseases and other serious problems including: High blood pressure, heart disease, stroke, liver disease, and digestive problems. Cancer of the breast, mouth, throat, esophagus, voice box, liver, colon, and rectum, here at the next link you can find it explained more in detail by experts.
Right now there are four children who arrived at the shelter by means other than our field team's rescue mission. It's not very common. In a year, there may be two or three who are considered "voluntary returns." Typically those who escape are 13 or older, since they can manage their way out of a dangerous situation.
Two of the four in our shelter were taken in by Ghana Social Welfare in Yeji and transferred to Challenging Heights' care. Two of the children escaped themselves. They had been on the lake for so long that they don't know their families, or even where their homes in Winneba are.
Last Fall, a bus raid performed by Challenging Heights and Ghana Police discovered five children who were on their way to work in hazardous conditions on Lake Volta. The children were sent to our Hovde House shelter. Since they had not yet been working on the lake, we call this an interception. Four of the children were sent home to their families and their families were warned not to send their children to work on Lake Volta. One child remained at our shelter because her home wasn't suitable or safe for her to stay there. She had not been in school or well fed. The other four are being monitored by our teams to make sure their parents are taking care.
Every child who is taken to the rehabilitation shelter is cared for in the same loving way no matter how they arrive. Their medical conditions are checked; they are enrolled in school and they are well fed, clean and safe.