Public transport drivers learn how to watch out for child trafficking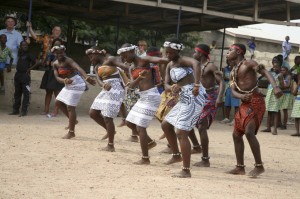 "There is so much I want to share with everyone back at the [station]," said Kweku, a transportation union leader from Mankeseem.
He took part in the Challenging Heights "Training workshop for GPRTU and Traditional Leaders in the Central and Greater Accra Region of Ghana on Turn Back Child Trafficking." It was a day-long information session and discussion for the Ghana Private Road Transport Union, religious leaders, and chiefs in the area. Kweku said before the training, he didn't even realize that children were regularly sent from their homes in coastal communities on buses and tro tros up to Lake Volta, sold into child slavery and hazardous forced labour.
As a way to sensitize the community and create awareness in public transportation drivers who may unknowingly be the vehicle with which traffickers pass along child slaves, Challenging Heights Advocacy Manager, David Kofi Awusi, organized the session. Supported by the Canadian Fund for Local Initiatives, lunch and transportation fees were provided to the participants.
Having been a driver, and now a leader of transport union, Kweku said he had no idea that so many young people were sent to Yeji to work on Lake Volta without much in terms of food, shelter or education. This highlights the need for sensitization programmes.
Sir David explained signs to look for in children who could be at-risk, or those who could be on their way to forced labour. They discussed what a trafficked child could look like – symptoms of mistreatment: if they look particularly unhappy, malnourished; if they keep their gaze down, if they're not confident and uneasy.
Awareness can be the key to vigilance, and Challenging Heights continues its mission to advocate and educate community members who can help put a stop to child trafficking and work toward getting children in school.
The taxi and tro tro drivers, union leaders and community leaders were given "Turn Back Child Trafficking" stickers to put on their vehicles and stations, to remind each other to stay watchful, because it is everyone's responsibility to keep Ghanaian children safe.