Police must ensure a school vacation free of child trafficking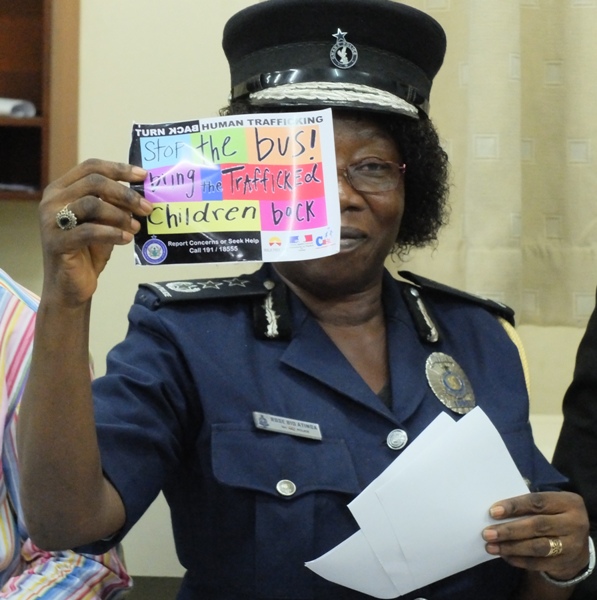 Challenging Heights calls on Ghana Police to deliver on their commitment to stop children being trafficked across Ghana, with the upcoming school vacation known to be the season when many children are taken into forced labour on Lake Volta.
Exactly one year ago this week the Anti-Human Trafficking Unit (AHTU) conducted a raid along Accra-Kumasi road in collaboration with Challenging Heights. Checking just 6 vehicles they identified 33 children deemed at risk of being trafficked or exploited in hazardous forced labour in the fishing industry there.
Challenging Heights urgently reminds all Ghana Police officers of the directive issued by the IGP on 5th June 2015 during the launch of the TURN BACK Human Trafficking Campaign in Accra. This commits all officers and personnel at barriers and checkpoints to thoroughly screen vehicles for unaccompanied children and to report cases of concern.
We believe that at this time vigilance is required by all police officers, but especially the MTTD. The safety of our children cannot be left to special operations but requires the systematic screening of suspicious vehicles, especially those carrying children, across all our roads. If the AHTU can rescue dozens of children in just one night, imagine how many more could be saved if checkpoint officers met their obligation to check for vulnerable children every day?
Sadly, over 190,000 people are thought to be trapped by human trafficking in Ghana. Of the estimated 49,000 children working on Lake Volta, over 21,000 are engaged in hazardous child labour – work that endangers their lives. We believe many of these children are trafficked to the Lake during school vacations, and so it is imperative the police act now before Ghanaian children are made slaves in need of rescue in their own country.
Challenging Heights therefore calls on police officers, the public, drivers and GPTRU leader to ensure that there will be no child trafficking during this year's schools vacation in Ghana. We further remind all citizens that the Human Trafficking Act, 2005 (Act 594), makes human trafficking a criminal offence punishably by imprisonment.
Challenging Heights is a Ghanaian NGO that "promotes youth and family empowerment and children's rights to education and freedom from forced labour in Ghana". Our vision is "a world where every child is in school and lives in a caring and loving family.
Challenging Heights is a Ghanaian NGO that promotes youth and family empowerment and children's rights to education and freedom from forced labour in Ghana. Challenging Heights delivers social justice interventions to underserved communities with programmes that include the rescue, rehabilitation and reintegration of children who have been trafficked to Lake Volta to work in the fishing industry. Challenging Heights also runs a number of community awareness and economic empowerment programmes in order to prevent trafficking and re-trafficking of children.
For interview contact: David Kofi Awusi, Advocacy Manager
Cell: (+233) 240 577480; Email: advocacychghana@gmail.com