Rescued children visit apprenticeship opportunities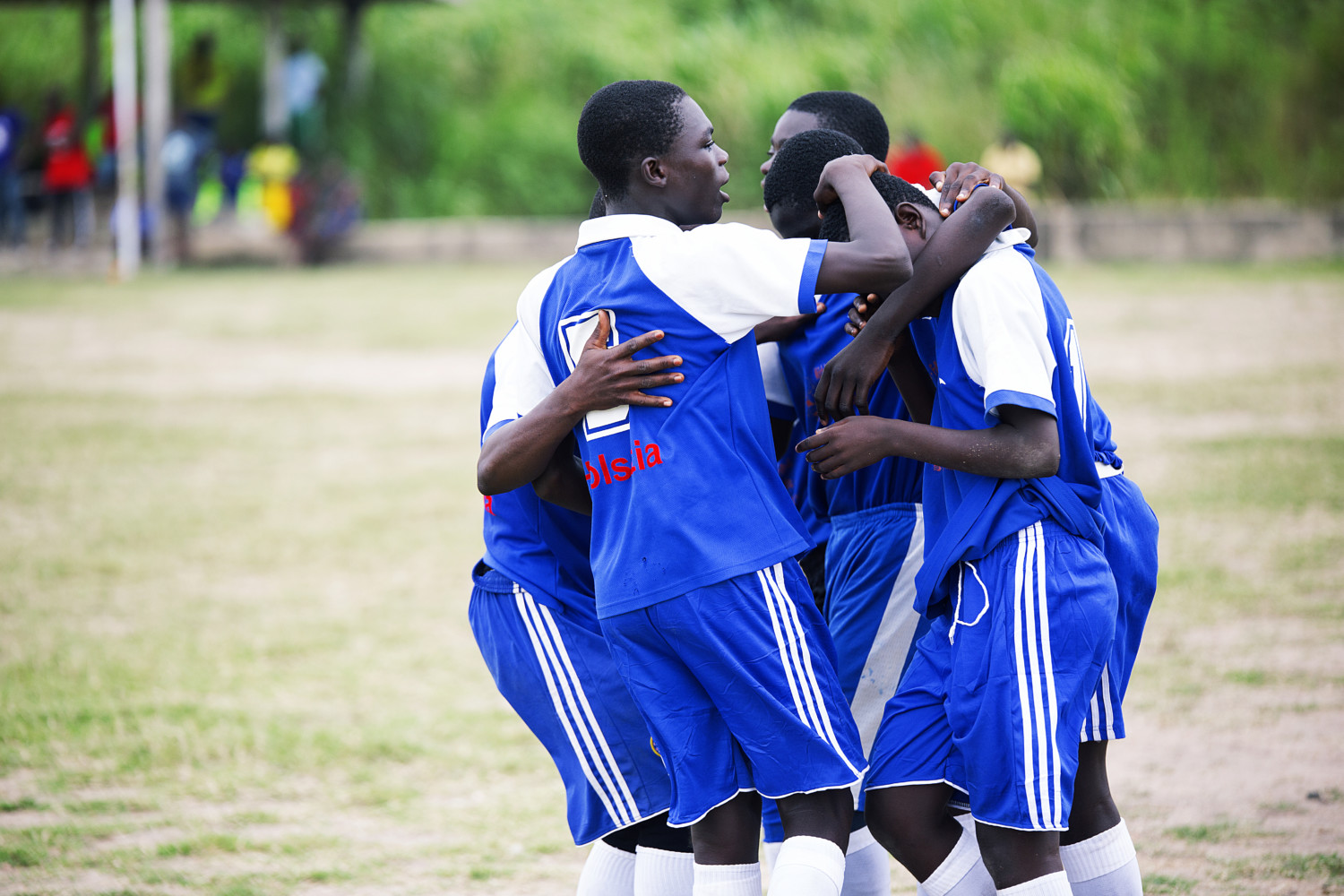 Hair dresser, tailor, concrete designer, auto mechanic, welder, carpenter and more. The oldest rescued children being rehabilitated at the Challenging Heights Hovde House were taken on a bus-tour style "Career Day," gaining crucial exposure to many different apprenticeship opportunities in the area.
First stop was a local hairdresser in Swedru. Three girls are on the bus and had shown interest in learning about the job. The owner of the shop, Joyce, explained what the job entails, including how a standard day goes. She talked about the different types of hair and gave some examples of how different hair types need to be treated differently. For this job, Joyce said, apprentices need to have completed JHS courses. She said hair dressers need to know how to read and write, because they must be able to read instructions on the boxes to know how to apply hair product appropriately. It takes three years to become a hair dresser, if apprentices attend courses regularly.
Near Winneba Junction, all the children got off the bus at a mechanic's shop. There were handshakes and smiles all around as the children knew two current apprentices, who they themselves had been rescued and spent some months at Hovde House.
The master at the auto shop advised students to finish JHS, but admitted that working as a mechanic was possible with less formal schooling and a longer apprenticeship.
Down the road, students saw huge piles of cement pillars and blocks. Most were decorative, but also served function. The block designers explained how they use molds to cut the blocks into different shapes and sizes. They say an apprenticeship can be about three months for quick learners. It does take an investment to start a business, the master warned the children, but growth will come.
With stops at a tire shop, brick factory and construction site, the children from the shelter saw first-hand what kind of work they could consider as they look to their bright futures far away from fishing on Lake Volta.
Along with career information, the shop owners shared pieces of advice and words of wisdom about working and life.
A seamstress in Winneba acknowledged that not even university graduates are having an easy time finding work, so vocational skills are often the way to go. She said being a seamstress isn't like being a hairdresser, where owners would need their own shop. With a sewing machine, the work can be done anywhere, even from the house. It's the kind of work that families need themselves, so if you can sew your own clothing, you won't need to pay someone else to do it, and you can advertise your work by wearing your own designs.
This seamstress explained that the children would need to be serious and focused to make the measurements perfect, but that it can be fun and rewarding. She hopes the children have a love and passion for the job they choose, but she also encouraged them to not just learn one thing. She said, if you learn other skills, for example, sewing plus make-up or hair, you wouldn't just dress a person, but put together their entire look and achieve more income through more services provided.
A big message from everyone was, even if some people say school isn't important, it is. The children listened closely as some said it's necessary to at least complete JHS, because some people even go to university to study fashion design.
The girls in the group visited the seamstress, but they also joined the boys at every stop. The boys were introduced to a tailor, who focused on sewing suits and male clothing.
At the carpenter's shop, everyone was told yes, women can make furniture, too. Many professions in Ghana are traditionally meant for men or women, but the masters on this tour did encourage the girls to choose what interests them.
A common theme for each job was that it takes time to learn and perfect a craft. If the children are serious and hardworking, focused and goal-driven, they can achieve much.
The children have been used to a life on Lake Volta without much knowledge of a world beyond. As they re-join, or even begin, their formal schooling at the Hovde House before they are reintegrated to their community schools, we hope that introducing them to options will encourage them to work hard and remain hopeful.