JHS students visit Ghana's Parliament; some see Accra for the first time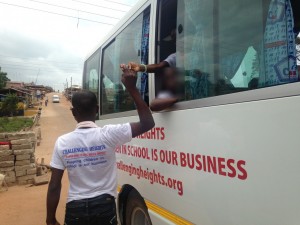 Between class-work, exam prep and studying, 20 of Challenging Heights School's oldest students, JHS 2 and 3, got to experience what they learn first hand, with a day-trip visit to The Parliament of Ghana.
The students have been learning about Ghana's three branches of government, especially as they prepared for the Basic Education Certificate Exam (BECE), which they need to pass to graduate and move on to senior high school. On their trip to Parliament, they saw the ministers and national leaders they have read about and seen on television, in the flesh. They even met the Effutu Region (which includes Winneba) Member of Parliament (MP), Hon. Alexander Kwamina Afenyo-Markin.
Sitting in the gallery, the students watched on as members of Parliament debated on the floor and made motions, which is all part of the government procedures they had only read about before.
Challenging Heights School had to apply to Parliament's public relations office and be accepted to be able to participate with guided tour. Along with three other schools, including a notable senior high school, Headmaster Eric Asamani says the students grasped a better understanding of Parliament's inner workings.
Asamani knows that some of the students had never been to Accra, so they used the day-trip to check out some of their capital's sights. The group stopped by the Accra Mall, the West Hills mall, the airport and the Flagstaff House, which is the Seat of the Presidency of Ghana. That is where Ghana's President, John Dramani Mahama, lives and works. West Hills shopping mall in Weija offered some students their first experience riding on an elevator and escalator!
The students are thankful to donors who fund CHS and allowed them to explore their nation's capital. They say they want to go back to those places. Asamani believes they've now been inspired to work hard, travel outside of Winneba and raise their economic ability and standard of living.