Day of the African Child aims can only be achieved through full implementation of the National Plan of Action by the Government of Ghana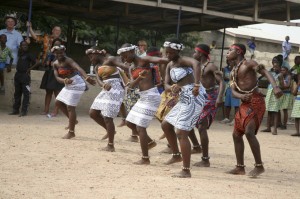 Challenging Heights believes that the Government of Ghana is neglecting its 9 million children by failing to fully implement the National Plan of Action (NPA) to end all forms of Worst Forms of Child Labour (WFCL) in Ghana by 2015.
The NPA was launched in 2011 with strong commitments to tackle rights abuses such as hazardous labour and forced marriage, the elimination of which is the focus of this year's Day of the African Child. As a child rights organization, Challenging Heights was hopeful that this NPA would mean a better life and protection for all children of Ghana.
But now with less than one year of the NPA left, over 75% of the stated plan has not been delivered. The government is therefore at serious risk of failing on its commitments to the children of Ghana and leaving them exposed to forced labour in mining, fishing and agriculture, domestic servitude and sexual exploitation.
Today, the 16th of June 2015, as we celebrate the International Day of the Africa Child, Challenging Heights is asking the Government of Ghana through the Ministry of Employment and Labour Relations (MELR) and the Ministry of Gender, Children and Social Protection (MoGCSP): what is the way forward for the children of Ghana? We demand that these two child-oriented ministries tell the people of Ghana what concrete plans they have put in place to protect our children from all forms of exploitation and violence, and furthermore what guarantees they will give that these plans will be achieved?
According to ILO there are over 168 million boys and girls who are trapped in child labour globally – millions of them in our own country. Of Ghana's 8.69 million children aged 5-17 years old, an estimated 1.89 million are in child labour in Ghana (21.8%) with as many as 1.23 million (14.2%) in hazardous child labour, forced marriage or child trafficking.
How long will we sit down and look on for our children to die and waste away in horrendous child labour and other forms exploitation in Ghana? Let us remember that the OECD recently stated that Ghana is achieving less than 3% of its economic potential because all our children do not complete basic education.
We ask the Government of Ghana to show strong leadership through concrete actions and moves to end the menace of child labour which is a key barrier that prevent children from living in freedom and enjoying their basic right to education. A necessary step in achieving this is setting out how – and when! – all the targets of the NPA will be achieved.
For interviews Contact: (+233) 244 515 761