Challenging Heights welcomes commitment by Ghana Police to properly screen vehicles for trafficked children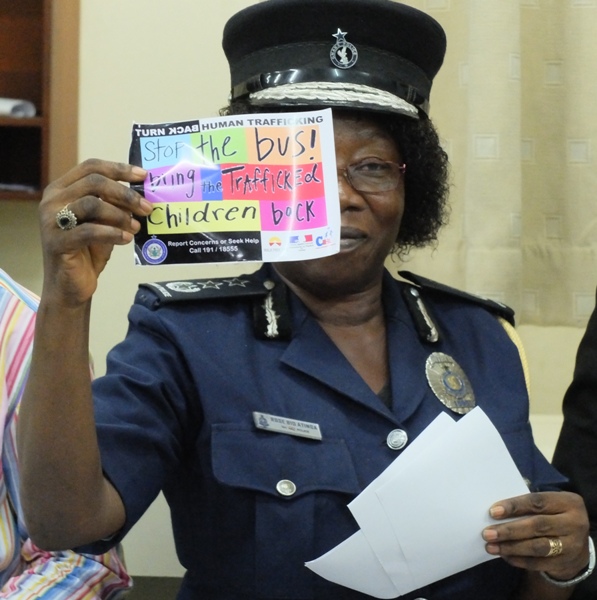 As Ghana Police Service launch the TURN BACK Human Trafficking strategy today, Challenging Heights is calling on police officers to routinely and systematically inspect all suspicious vehicles for trafficking persons, especially children.
We know that every year thousands of child and adult victims of trafficking are transported along Ghana's roads, taken into forced labour and sexual exploitation.
Fortunately there are established police checkpoints on all major roads across all the ten regions of Ghana. They have the capacity to check vehicles – especially commercial vehicles travelling to high risk destinations such as Yegi by night – for unaccompanied children and vulnerable adults.
Yet currently hundreds of children are trafficked through these checkpoints every week. To stop this police officers must systematically check vehicles for victims of trafficking and not just stop vehicles to check for licensing and certification. We believe it is the duty of every police officer to protect Ghana's children from potential exploitation, not just dedicated units such as the AHTU.
We therefore welcome the statement by Ms Rose Bio Atinga, the Director-General of Administration, speaking on behalf of the Inspector-General of Police, in which she confirmed that police "officers and men at barriers and security check points have also been directed to be alert and look out for such cases and report". We look forward to seeing the results of these promised efforts in the weeks and months ahead and would expect a significant increase in the cases report and prosecutions considered if action does indeed follow.
Over the past decade Challenging Heights has rescued hundreds of children from forced labour and prevented thousands of potential victims of trafficking. But these children should never have been at risk of trafficked in the first place.
Ghana is known to be a source, transit and destination country for human trafficking, where both internal and external trafficking happens on daily basis. Although there are strong law in place, such as the Human Trafficking Act, 2005 (Act 694), practical actions to implement these is very limited, uncoordinated and under-resourced. Consequently, Ghana is listed on Tier 2 by the United State Department of State's Trafficking in Person's (TIP) Report, meaning our Government does not fully comply with the international minimum standards.
The Global Slavery Index (GSI) estimates over 190,000 people are trapped in forced labour and exploitation in Ghana, while the International Labour Organisation (ILO) estimates that on Lake Volta alone there are over 21,000 children engaged in hazardous labour (work that is dangerous to the life and wellbeing of the child).
Challenging Heights therefore calls on all the people of Ghana to acknowledge what is happening in our country and watch out for cases of trafficking and abuse, which should be immediately reported to the police. We further call on GPRTU leaders and drivers to disallow persons they suspect of being trafficked to board their vehicles and reported suspected cases of trafficking to MTTD officers.
Contact for interview and further information:
+233 244 515761
infoCHghana@gmail.com