GES Must Respond To WASSCE Anomalies Before the Future of Ghana's Children is Destroyed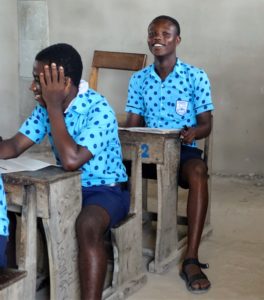 PRESS RELEASE 18-5-2015
Ghana Education Service must respond to the violent and unnecessary discipline administered during the ongoing West Africa Certificate Examination (WASSCE), demands the child rights organization Challenging Heights.
Challenging Heights believes that these anomalies that prevent children from writing their WASSCE as planned can destroy the future of the children and youth in Ghana.
The ongoing WASSCE has seen several breaches in discipline conduct, such as caning examination candidates on the basis of not paying their full school fees, even though this goes against orders issued by the acting Director-General of Ghana Education Service. Some students who were caned were made to stand outside for an hour, falling behind, as their classmates continued the exam. Other students were sent home to retrieve their school fees.
In one case, a student was not allowed to use the washroom, and was then forced to defecate near the examination hall. The saddest part was that he was made to collect his own feces and clean the place before being allowed to enter the examination hall to continue his paper.
These situations pose roadblocks to children in Ghana and hinder them from furthering their education. This in turn is hampering Ghana's development.
The potential of Ghana's economic growth as a result of its investment in the education sector is undeniable. In the newly released Organization for Economic Cooperation and Development (OECD) findings, we see a strong correlation between investment in education and economic growth. It predicts that if all children completed basic education to age 15 then the Gross Domestic Productivity (GDP) of Ghana would not double or triple but increase 38-fold!
It is on this basis that Challenging Heights demands a response from Ghana Education Services to prevent future breaches, and so not to waste the meager resources we have invested in our children in Senior High Schools. Challenging Heights seeks to promote children's rights and envisions "a world where every child is in school and lives in a loving and caring family".
On Wednesday, April 22, 2015, Daily Graphic reported that three girls at St. John's Grammar Senior High School in Accra were prevented from writing their Christian Religious Studies paper in the ongoing WASSCE, due to their bushy hair. Interestingly, the acting Director-General of GES was quoted to have said that the school should register the students in the upcoming November/December edition of the WASSCE at its own cost.
We want to know who is responsible for following up and making sure the girls are allowed to register again, and how can their situation be prevented in the future.
Sadly, we have had several cases were students were sacked for failing to pay all school fees. Though the GES issued a directive that no child should be sacked during the WASSCE on the grounds of not paying their full school fees, this continues to happen. It appears that it is a standard practice in schools that students who owed part of their school fees are canned and cautioned before being allowed to write exams, on a daily basis. In cases where students are caned and made to wait outside before they start their exam, there is no doubt that the children are not able to perform their best, considering the loss of exam time, plus psychological and emotional distress endured.
How can we, as a country, expect children to perform well on their final exams immediately after suffering physical violence or caning – or when they are denied their right to properly sit papers, at no fault of their own? These children are plagued with fears, tears, anxieties and stress, which does not provide the right psychological frame to write and excel in any academic test or examination.
We are particularly concerned about what becomes of their future, destiny and the investment that their parents had made into their lives – both for the individual children and for the loss of benefit to our country's economy.
As of now, Ghana Education Service has not openly expressed their plans to address these breaches, or to enforce the very directives issued to prevent this from happening next year and in the years beyond.
For interview contact:
David Kofi Awusi, Advocacy Manager, Challenging Heights
Cell: +233 244 515 761 or advocacychghana@gmail.com