10th Anniversary Celebration of Challenging Heights Speech Delivered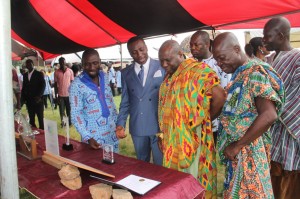 "The Chairperson, Nenyi Ghartey VI, Honorable Alex Afenyo-Markin (MP for Effutu), Reverend Professor Afful Broni (Pro Vice Chancellor of the University of Education), and all of our special invited guests.
It is with pleasure that I welcome all of you to the 10th anniversary durbar of Challenging Heights.
We have chosen for our 10th Anniversary durbar to focus on the importance of education in protecting children's rights. Education has always been at the heart of the mission of Challenging Heights, and remains a central part of our programming today.
Twelve years ago, in August 2003, I founded Challenging Heights club. This club quickly became a platform for about a hundred children who received various supports from me in order to go to school.
In February 2005, that is ten years ago, I proceeded to register what has now become Challenging Heights.
Challenging Heights is a child-centered organization aimed at providing support for the education of children in underserved coastal and farming communities along the costal regions of Ghana. The organization also provides support for families whose children are at risk of losing parental care due to poverty, and also work actively to prevent children from being exploited in child labour situations.
Currently, Challenging Heights runs several different projects, operates in 40 different communities across the country, and employs 94 staff working to provide various services and programs in all of our communities.
So far since Challenging Heights was registered in 2005 we have supported several hundreds of boys, girls, women and families to access various support services including educational support, rehabilitation, scholarships, training, micro-finance and micro-business management, and rescue programs.
In 2005, when Challenging Heights was officially registered, we supported 124 children and youth to go to access various forms of education such as basic, secondary and vocational schools. That same year we supported 10 women to start their own businesses in order to earn income to support their own children.
In 2006, when I had won the Barclays Group Chairman's award, we increased our support to cover nearly 300 children and youth, and women.
In 2007, we established Challenging Heights school. Today, Challenging Heights school boasts of over 700 students between the ages of 4 and 17 from nurseries one to JHS three. The organization, Challenging Heights, currently pays nearly 70% of the cost of educating children in Challenging Heights school, while the parents of our children pay the remaining 30%. We have great aspirations to increase the number of students for whom we can pay 100% of the costs through our expanding overseas donors program.
Alongside the school, we continued to identify and support several hundreds of children in the Central, Eastern, Greater Accra, Brong Ahalf, and the Volta Regions, and we are grateful for the support we received that year from the Global Fund for Children.
Over the next few years we established and trained our first 20 Community Child Protection Committees, expanded the coverage of our support for women, and our youth focused programs.
In 2009, through our collaboration with various partners, we supported over 300 youth to access various vocational and technical skills, in addition to hundreds of children we supported that year.
Unfortunately Ministry of Employment and Labor Relations failed to pay Challenging Heights for the work they contracted us to do for them. I look forward for a judgment debt this year.
The year 2010 saw our support for women jumping from an average of 100 to over 250 women being supported to undertake various income generating programs. This significantly improved the incomes of the participants.
In the year 2011, Challenging Heights established a 65-capacity rehabilitation center, to provide counseling, and other psychosocial support for children we rescue from trafficking situations. So far several hundreds of children have been supported through this project.
We believe access to quality education for all is at the heart of giving every child the opportunity and dignity that they deserve, and essential for Ghana's success.
In 2012, Challenging Heights commissioned a 30-seater capacity ICT center, to train 200 youth each year. And last year, we commissioned a 50-seater capacity community library for the benefit of both our school children and our community. This was followed by the ground-breaking for the commencement of the construction of a livelihood complex that includes a smoke house, a coldstore, and a women and children hospital.
In the last ten years, we have formed, trained and supported a total of 42 Community Child Protection committees in six different districts across the country, and distributed thousands of educational materials such as books, classroom furniture, uniforms and shoes to several thousands of children.
We have been a key figure at the local, national and international front, advocating for the rights of children, especially children affected by child labor.
As we work with various district assemblies to fight child labor, we also support government's efforts at the national level to reduce the incidence of child trafficking. For instance our friendship with the Anti-Human Trafficking Unit of the Ghana Police Service, and the Human Trafficking Secretariat of the Ministry of Gender, Children, and Social Protection is not in doubt.
Recently we have joined hands with Pope Francis, the Head of the Catholic Church, to support his initiative to fight against human trafficking. We have also joined the Anglican Archbishop of Canterbury, on his global fight against human trafficking. We have also been involved in various forms with the US Department of States serving a key resource for America's fight against modern slavery.
But we have also had our fair share of challenges. Limited resources, death threats, smear campaigns, and certain cultural attitudes that does not promote community and individual development, has been challenging for us.
In spite of these challenges, Challenging Heights continues to grow bigger each year, and we are proud of what we have created. This year we have began the implementation of our recently approved 5-years Strategic Plan. And we want the world to watch out for us.
We chose our motto, "to whom much is given, much is expected", to guide us to do more each time we are presented with opportunities. When we started we did not have an office. Today, as you can see, we have completed our own offices. The facilities on which this program is being held is a product of Challenging Heights. In fact, there are many reasons why we can do more in the next ten years. So expect more.
"To whom much is given, much is expected".
Thank you very much for your kind attention."