Celebrating 2014 and Welcoming 2015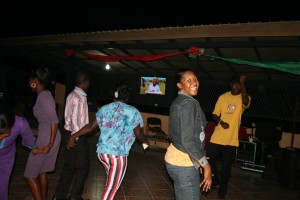 As we all entered the New Year full of excitement and ready to take on the coming year, all of Challenging Heights staff, over 90 people, came together to celebrate and recap 2014.
Not very often are we able to bring all of Challenging Heights team members together, so not only is this annual celebration a chance to give thanks to everyone who has been working hard for Challenging Heights but also a chance for everyone to meet each other. Staff from our school, office, shelter, and programs team in Yeji all were able to be in the same place at once. We find this important because we want our staff to know each other and recognize the work that each person is doing.
In 2014, we cared for children through direct rescues, rehabilitation support, providing and monitoring of reintegrated children. We have increased our advocacy, created new livelihood programmes, and have seen many successes through our education programmes including graduating our first batch of Junior High School students and opening our new library.
At the annual CH due there was much chatting, dancing, and a nice meal. It was great to see everyone at Challenging Heights enjoying time with their co-workers, who they may work with everyday or who they just met. It also showed the structure and the people that hold the organization together, each individual taking on an important role that helps make CH run.
We give thanks to a great 2014 and enter the new year with new hope!