Receiving an Honorary Degree by Grand Valley State University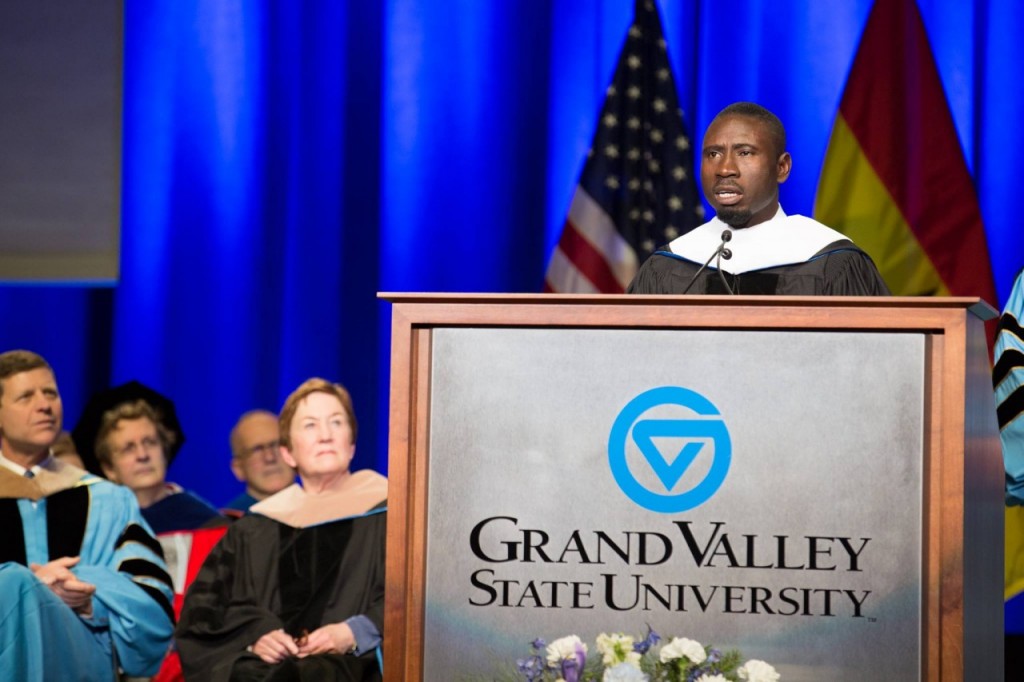 Over 11,000 people filled the Van Andel Arena in Grand Rapids, Michigan to watch over 1,000 individuals receive their degree, I was happily among this crowd.
I am honoured to have been awarded an Honorary Doctorate in Letters degree from Grand Valley State University at their 2014 winter commencement. Grand Valley Statue University (GVSU) and Challenging Heights have a long history together.
For several years GVSU have been conducting a summer study abroad programme in which they bring students to Winneba for several weeks in the summer term. Many of the students chose to work with CH doing various forms of internships and projects that are mutually beneficial for their studies and the needs of CH. Through this partnership I have visited GVSU on several occasions; giving speeches, participating in programmes and I have always felt supported by the University. GVSU has graciously awarded me this honoris causa, "for the sake of honor" degree.
I thank GVSU for such a high honour, for giving me the opportunity to speak at their graduation ceremony and for the company I was surrounded by. The president of Grand Valley State University, Thomas Haas resonates humility and inspiration.
I also want to send another, personal, thank you to Joseph Verschaeve who offered me support the entire time I was at GVSU.
I hope that this leads more of the community to learn about Challenging Heights and create discussion and advocacy in their hometowns about the rights of children, specifically about education and child trafficking.
Medase pa, GVSU and I look forward to continuing our established partnership.