Reflecting on 2014…Thank You for Your Support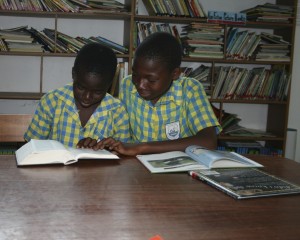 This year has been an exceptional year as we continue to promote youth and family empowerment and children's rights to education and freedom from forced labour in Ghana.
We opened the Challenging Heights Hand in Hand for Literacy Community Library and graduated our first Junior High School (JHS) class in which all 15 students continued to Senior High School (SHS). We even see some of these students returning to the library to study as they prepare for their SHS exams.
We had an amazing group of hardworking individuals who participated in our first advocate's programme- many of whom continued as interns offering their skills to help in our needs. We also welcomed several other groups of passionate individuals who helped in various tasks such as in the library and repainting the entire rehabilitation shelter. These individuals not only actively helped in Challenging Heights needs but also walked away as child rights advocates!
In addition to our lake operations in which we physically rescued children from forced labour on Lake Volta we also participated in a joint-operation with the Anti-Human Trafficking Unit of the Ghana Police Service to prevent children from being forced into work on the lake. And we still are not finished yet! Plans are in place to conduct another rescue before the end of the year.
Our programmes team has been actively distributing TOMS shoes to local schools, 40,000 new pairs of shoes to be exact. It has not been easy through difficulties and the sheer number of the shoes but the team continues to go to local schools ensuring every child receives a pair of shoes.
We have actively been campaigning with Walk Free to create awareness about child trafficking in order to prevent any more children from being sent to a life of modern slavery on Lake Volta.

These are just a few of the major events we had in 2014 in addition to the everyday highlights of running Challenging Heights School, the rehabilitation shelter and livelihoods programmes.
So from the entire team at Challenging Heights we thank YOU for the support and belief you have in CH. We continue to ask for your advocacy and action in creating awareness about child trafficking and ensuring every child is in school and lives in a loving and caring environment. Get involved, spread awareness, create your own campaign. We all have the power to take action against injustice.
If you want to support Challenging Heights consider giving a donation towards a child's education and freedom. $1 helps support a child for 1 day of school.