Challenging Heights Spotlight…one young man who does it all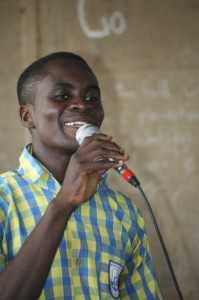 Emmanuel, or more commonly known as Ema, is a scholar, leader, singer and friend. He is 16-years-old with a bright future ahead of him. Ema carries happiness with him wherever he goes as he laughs and goofs around with his friends. He loves action movies, the color black, cooking, eating rice and kontombre stew, learning and attending school and singing at his local church. He is an outgoing and determined young man who exudes kindness, confidence, and leadership.
He has been enrolled at Challenging Heights since 2009 in which he was placed in KG2 but within the same year was moved up to class 3 due to his academic advancements. His favorite subjects in school include Social Studies, Science, and ICT. Ema is a very serious and bright student-finishing top of his class upon his completion of JHS 1. You will often find Ema carrying a new book, reading a dictionary and quoting statistics from the UN or World Aid. He is never shy to talk in class, answer a question, or give his opinion.
Not only does Ema excel in school but he also participates in a number of extra-curricular activities. Ema is an avid member of the Children's Development Khazana and school choir. The CDK teaches financial literacy skills to children relating to savings, credit, banking, and democratic principles of cooperatives. Recently Ema has been elected secretary, which he explains that he is responsible for "taking notes during the meeting and notify the director if there are any problems that come up." By using the CDK to help him save money he hopes to save enough to deposit in a local bank by the time he graduates from Challenging Heights.
Above all Ema loves to sing and feels he has an obligation in doing so. He is actively involved in the choir, sings at school functions, and in his church choir.
We are excited to see where the future takes this young man as he continues to excel in school, take on leadership positions, and pursue a career in singing. We know he will do great things and be a social agent of change wherever his dreams take him!
You can help support Ema and other children at Challenging Heights and make a donation through Friends of Challenging Heights-giving a holiday gift of education and freedom! $1 a day supports 1 day of school for a child and helps protect them from forced child labour. Thank you for supporting Challenging Heights this holiday season!