Challenging Heights is AGI's Social Enterprise of the Year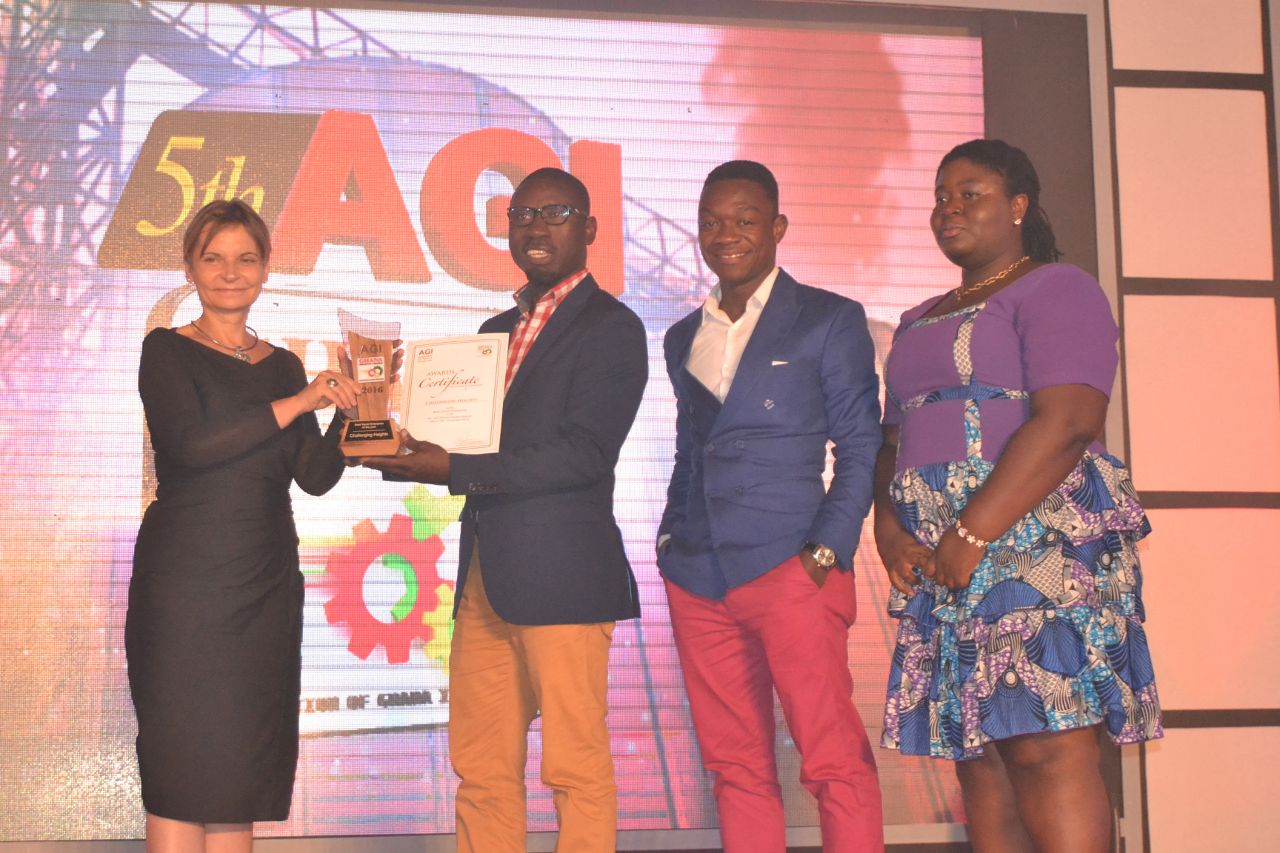 Challenging Heights has received the Best Social Enterprise award at the 5th edition of the Association of Ghana Industry (AGI) awards. This is in recognition of the organisation's innovative and sustainable approach to addressing the issue of child trafficking in Ghana, and how the organisation has developed a number of livelihoods and income generating ventures to support its operations.
The newly introduced award category, sponsored by the British Council, is aimed at encouraging social entrepreneurs whose businesses focus on grassroots development through sustainable investments that create employment opportunities.
The President of the AGI, Mr James Asare-Adjei in his keynote address said Ghana's prospects for job creation will improve if local industries experience sustainable growth to alleviate the graduate unemployment situation.
Mr Asare-Adjei urged the government to provide special fiscal and financial incentives to give local industries some edge over the prevailing competition.
The British Council, in its solidarity statement said that start-up social enterprises in Ghana are increasingly becoming vital parts of local economic growth and employment as well as active change agents in communities around the country.
The statement said early stage social enterprises face a stifling range of interconnected challenges such as harsh regulations, non-existent early stage investment opportunities and a lack of relevant market insight.
"Inclusive growth remains at the heart of the British Council's support to the local social enterprise ecosystem," the statement said.
The British Council said it supports the social enterprise award due to its efforts to recognise business that has society at its core.
The President for Challenging Heights, Dr James Kofi Annan, in an interview, said Challenging Heights would continue to be driven by its passion of delivering social justice interventions to children, women and underserved communities in the coastal and farming communities of Ghana.
He said through the establishment of sister companies, namely, Run-Off restaurant, CH Cold Store, Nyce Media and the Friends International Academy, Challenging Heights has created sustainable means to support the organisation's goal of ending child trafficking on Lake Volta, while at the same time generating income for its own operations.
"Challenging Heights is currently the highest private employer in Winneba. The establishment of these enterprises has created jobs which are aimed at empowering communities and breaking the cycle of poverty; a main cause of trafficking," he added.
Dr Annan urged the Government to create conducive environments for local businesses to operate and create more job opportunities to deal with the country's high unemployment rates.