Now a seamstress apprentice, Ruth has hope for her future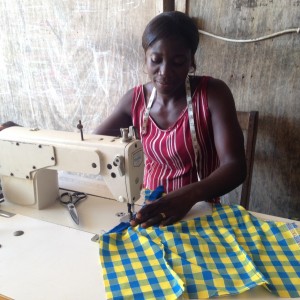 Years as a domestic servant for fishermen on Lake Volta, Ruth knew cooking and washing. She would take boat trips into Yeji from her small village each Sunday to buy foodstuff for the week. Her master, who was also her grandmother, verbally abused her constantly, and she expected insults from the least provocation. She knew she wasn't happy, but had nowhere else to go.
While she enrolled in nursery school as a small girl, Ruth's grandmother asked her mother to take her to Lake Volta, and her mother agreed. She was never afforded formal education.
Her life is so different now from when she worked on the lake. Ruth says she now knows what life is. Now that she can learn a trade, she sees what she can become in the future.
In a dream, Ruth says she saw herself sewing. Since then, she wanted to be a seamstress, but she never anticipated that she could until she visited apprenticeship opportunities with the Challenging Heights Hovde House and she began her own within a month of being reintegrated with her family in Winneba. She's already worked on many pieces and sewn one for herself.
"I'm very happy in everything that I do, especially ironing for my master, and when my master asks me to sew some part of the dress," Ruth beams. She's excited to try new skills and hopes to master them so that she can one day open her own seamstress shop and employ children like herself, who had no hope in the future. She wants to give opportunities to those who may have had difficult backgrounds, too.
Thankful to Challenging Heights, Ruth says she won't let us down. She wants to let the whole world know that children who find themselves on the lake have so much potential, so "there is no need for them to rot on the lake forever." She hopes Challenging Heights continues receiving support so others like her can be rescued, live with their families, and have a bright future of their own.