NGO supports police to rescue five children from slavery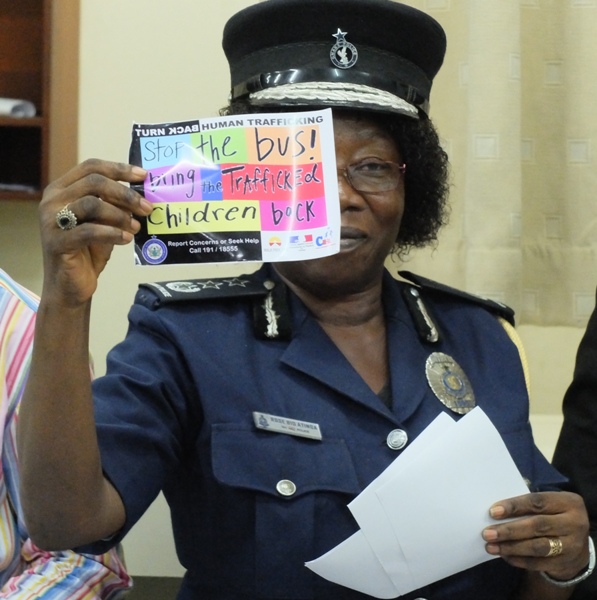 Five child slaves in Fantekope, an island community along the Lake Volta in the Kpando District have been rescued from slavery by Anti-Human Trafficking NGO, Challenging Heights.
The rescue mission, conducted in collaboration with the Anti-Human Trafficking Unit (AHTU) of the Ghana Police Service and the Ghana Navy, saw the liberation of five boys between 9 and 19 years who had slaved close to five years on the Lake.
Four out of the five children were allegedly sold into slavery by their 56 year old father; Bright Agyepong, who is claimed to have been receiving the wages of his children's labour regularly from the slave masters.
Communication Manager of Challenging Heights, Pomaa Arthur, commenting after the rescue, explained that her organisation first heard the news on Peace FM last Thursday and decided to support the AHTU with expertise and logistics since they didn't have the needed resources.
"We followed up on this issue and supported the police because we are very passionate about the issue of trafficking and rescuing children from slavery is a priority for us. We have been doing this since 2005 and have rescued over 1,500 children from slavery," she said.
Ms Arthur said following a lead on the exact location of the children, Challenging Heights together with a few armed law enforcement officers went to the island community to save the children.
"The plan was to rescue the four boys who had been sold by their father but upon arrival, a nine year old boy who saw what was going on boldly came out to tell us that he's also a slave who needs to be rescued because he wants to go to school," she added.
Ms Arthur explained that children sold into slavery are abused and basically have no rights, adding that, these children are treated like properties.
She said the children are made to work long hours on the lake and are most of the time fed once a day.
"We are excited to have played a very key role in this rescue. This brings the number of children rescued by Challenging Heights this year to 21. These children will undergo rehabilitation at our shelter for a period of 6-9 months before they are reintegrated with their families," she said.
Ms Arthur urged the government to prioritise the issue of trafficking by allocating more resources to law enforcement agencies responsible for combating trafficking in Ghana.
"We are likely to be downgraded to Tier 3 on the Trafficking in Persons Report if we do not make significant efforts to bring an end to trafficking. When this happens not only will the U.S cut off their aid but we would have failed the thousands of children, women and men who have been forced into slavery," she said.