YEP Graduate runs his own printing shop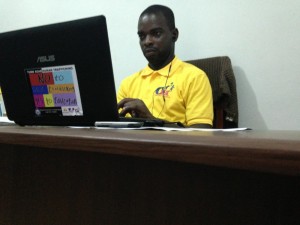 With a line out the front door and people sitting on every seat available, Konastone apologises to his clients and asks for a moment to speak about his time at the Challenging Heights Youth Empowerment Programme. The 30-year-old says he started his own printing shop, Konastone, in 2010, but he didn't have the capital for the actual building. At the time he would pick up projects from students at the University of Education Winneba, print them at his house, and deliver them for a fee. Gradually his business grew and he built the shop – but electrical and financial issues kept him from opening, and he continued door-to-door service. By 2012 he opened the shop, but it was in 2014 that he gained the confidence and better business development skills to expand.
It was in 2014 that he took a friend's advice to join Challenging Heights' Youth Empowerment Programme (YEP).
"I'm somebody who always opens myself up to study and learn new things," Konastone says. He wanted to learn all that YEP had to offer after he had seen the successes his friends met after they graduated with the certificate.
Along with some technical skills, like using the software Coral Draw or how to design a certificate with a clean boarder, for which his customers now come to him for his expertise, Konastone says he learned how to better manage his business. With practical lessens, experience and learning, he gained the tools to build upon the business he already created.
He continued running his shop as he took ICT and leadership classes with Challenging Heights, and he was pleased to use the skills and advice taught in class in his daily work. He knows that most learning comes on-the-job, but he takes lessons in how to handle customers and uses them and improves upon them everyday. He knows that his business relies on networking, which was a major component of YEP for him. Konastone says it's important to know how to relate with others and he now corroborates with colleagues from his YEP class. He says he met most of them for the first time through the course, but he's remained in contact and he often bounce ideas off each other and even share customers when they know certain skills each other possess.
YEP offered Konastone new ideas to broaden his approach to his printing business. He hopes Challenging Heights can advertise to a wider audience to let young people know that their free programme, funded by EMpower, is available and valuable. Konastone thinks that young people should participate in YEP if they can, because the world is so technology-based, yet many Ghanaians are not in the know. He attributes technology for connecting people in their generation, plus knows that to be technologically savvy is the only way for young people to successfully manoeuvre through their education process. Having ICT training gives young people the basics skills they need professionally, but also personally, as they advance.
Konastone takes every bit of learning he can as he thinks of positive growth opportunities for his business. With a twinkle in his eye, he allows photographs of his shop to be taken, acknowledging, "it's a humble beginning." He's excited for what's to come.