CHS students compete in Winneba's Inter-school Games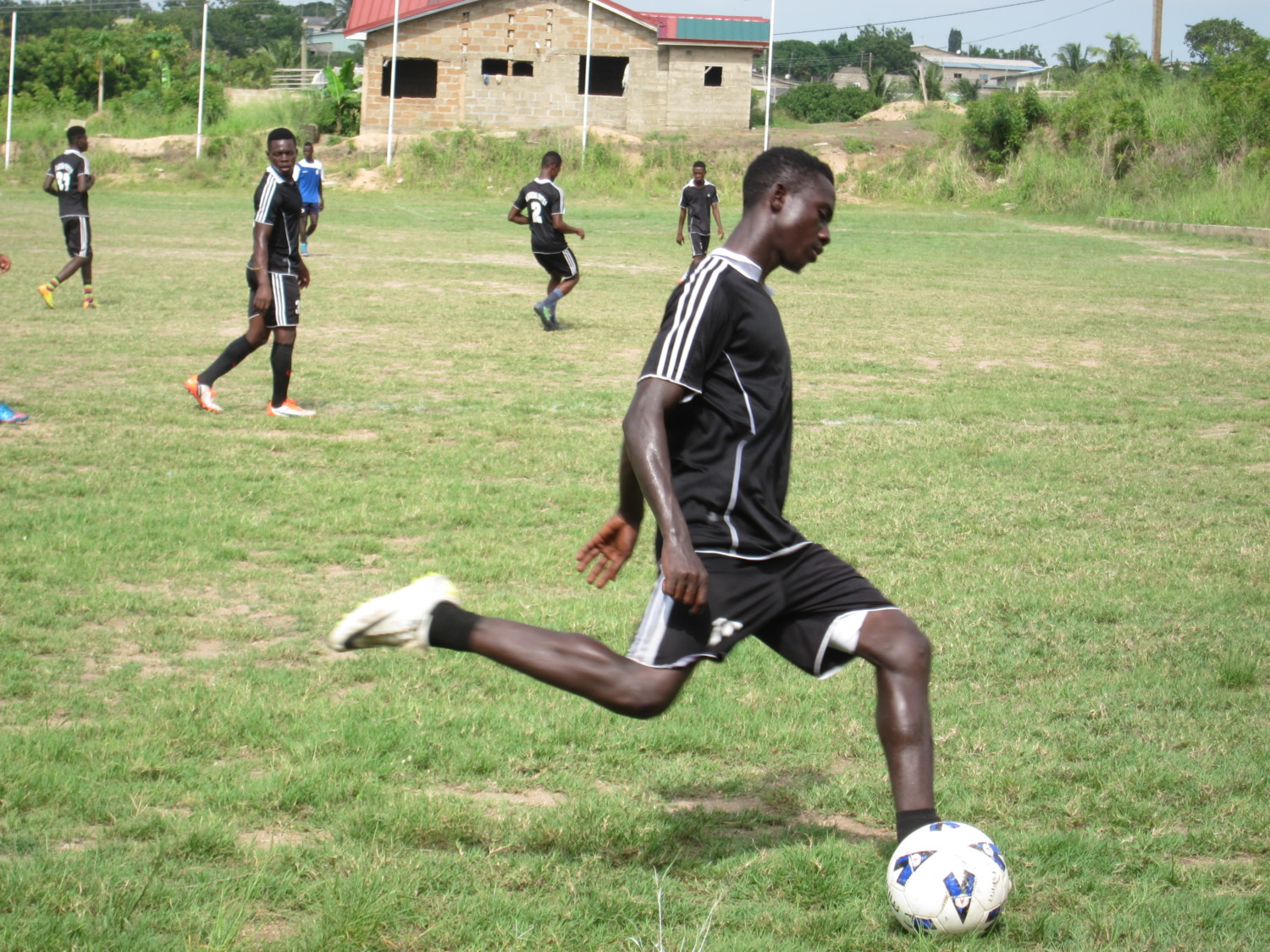 Each school year in the middle of the second term, schools from across Winneba come together in friendly competition. Twelve different schools participated this year, in football (soccer), netball, volleyball and handball, over a three-day period.
Students had been practicing for weeks before the competition, developing teamwork and strategy. On the first day of the games, masses of children piled into Winneba United Park, some in school uniforms, but many in sport jerseys for their respective schools. There is also activity happening at two other school grounds nearby.
Challenging Heights students helped set up a tent that would provide for shade for some players and spectators; food vendors set up tables of waakye (rice and beans) and rice, and others sold snacks on their heads.
Older boys gathered with whistles and drums creating a beat for friends to sing and chant in support of their teams. Smaller children surrounded the noisemakers, dancing and moving along with the excitement.
Games run in tournament fashion, with winners playing winners, losers playing losers.
At Baptist Academy, girls face off in netball matches. It's a game on a field with two poles with circles that resemble basketball goals. Players take up positions: goal attack, goal defender, wind attack, wind defender, center, goal shooter, and goal keeper. The ball is mostly passed through the air; double dribbles aren't allowed. The ball shouldn't touch the ground, or even the players' legs. If the ball does hit someone's leg, the ball is given to the opposing team.
The players on Challenging Heights' team say they don't usually know the students from the other schools, so they don't know who could be tough competition. The girls don't seem to care though, Abigail says they know how to do the proper pivot to be able to play well and the other schools may not. Savannah agrees with confidence: "We are good!"
Spectators cheer like crazy for each sport, and while students usually sit with their own schools, sometimes they have friends from other schools, too. Challenging Heights JHS student, Naomi says she goes to church with her friend Sarah, who's dressed in a Baptist Academy school uniform. Sarah says she'll cheer for Naomi when she takes the field, even though they root for different teams.
In all, our students performed very well at the games. Our primary school students took the 2nd place overall champion, and JHS teams ranked 3rd place overall. We got 2nd place in girls primary volleyball, and 2nd place in boys primary volleyball. Our football (soccer) team took 1st place! And our JHS football team ranked 4th out of 12 schools. We're proud of our athletes, and we know they're only getting better.