Rescue: Traffickers are summoned and pay restitution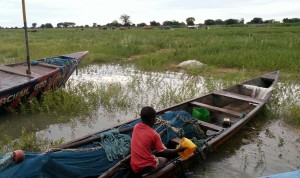 At the time of rescue, traffickers and families who are said to be misusing children and forcing them to work on Lake Volta are given a letter – a summons – that they must report to Challenging Heights' office in Sankor, Winneba. There, they will be interviewed and decisions will be made as to what consequences they face.
Mr. Mensah is Challenging Heights' Community Stakeholders Manager, who is ordained by Ghana's court system to mediate an Alternative Dispute Resolution (ADR) Programme. The traffickers and families of the children rescued report to him.
He asks four main questions:
1) Did you work your own son or daughter?
2) Did you give your child over to a trafficker?
3) Did you collect money from a trafficker?
4) How long was your child working in slave labour?
From the answers to these questions, Mr. Mensah decides how much to charge the parents in reparations – money that they were paid by traffickers to use their children, which would go directly to child's care. If the children had been making money for the parents, the money is now owed to the children themselves. The amount of money paid depends on the number of years the child had stayed with the traffickers; typically between 200-400 Ghana cedis (which is around $50-100 USD). Sometimes families are asked to buy clothing and supplies for their children while they are in Challenging Heights' care. The fines are hefty for families in places like Winneba, Senya and Swedru; the goal is to deter families from trafficking their children again.
If families and traffickers do not show up to Challenging Heights to meet with Mr. Mensah, the Domestic Violence and Victim Support Unit (DOVVSU) of the Ghana Police Service will be called. Mr. Mensah says that one person called from a Lake Volta village explaining that fishing has not been lucrative lately, and she wasn't financially able to make the 10-14 hour trip to Winneba. She asked her sister who lives closer, to meet with Mr. Mensah in her place.
In twice-a-week ADR mediation sessions, Mr. Mensah meets with families from the region to resolve disputes, from men who do not take responsibility for their children, to women who have too many children to raise on their own. He sees the poverty issues that many families face, but he says that is no reason to traffick a child into slave labour. Some families may need to lessen the burden of number of children they care for by sending children to family members on Lake Volta, others accept payment for their work.
When digging into the gravity of each trafficking situation, to determine appropriate punishment, Mr. Mensah hears all kinds of stories and reasoning from families who sent their children to work. When there is proof that families accepted money in exchange for their child's labour, they may be brought to court and if convicted, spend time in jail. Child, in Ghana, is a person under the age of 18. Many families tell Mr. Mensah that no, they did not sell their child into slave labour; they simply send them to live with relatives on Lake Volta because they could not provide enough for them. Oftentimes, they may not be truthful in their descriptions of what happened, but that is hard to prove, so they are strongly warned, but it's too difficult to try for conviction and jail-time.
Without knowing Challenging Heights' staff and style, some families may express concern about how their children are cared for. Once the families initially visit Mr. Mensah, they are taken to the Hovde House Rehabilitation Shelter to visit their children. They are given opportunity to speak with their children, some of whom have been separated from their parents and working on the lake for many years. When they see the shelter, the parents are always put at ease, seeing the bright and healthy environment the children are in as they start school and work toward reintegration.
Every step that Challenging Heights takes in the process of rescue and rehabilitation is in each child's best interest.