Senya community learns the realities of child trafficking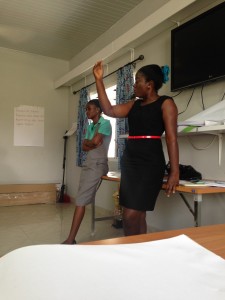 Gasps and groans erupt from a crowd of hundreds gathered at the Methodist Church in Senya, which is nearly an hour drive from Winneba, on Ghana's coast. Over a couple of hours, they watched a film showcasing the reality of child trafficking and forced labour on Lake Volta.
Men, women and children of all ages waited for the Challenging Heights field team to work through setting up a projector and getting speakers working and as the movie played, more and more people showed up to see the excitement. It's not often that new faces show up to the small town with a projector to play a video on the side wall of the church. This community sensitisation programme is one funded by a new partner, Engage Now Africa, which is learning from Challenging Heights' experience.
Before starting the video, field officers, Alfred and Rosemond, quieted the crowd and explained what Challenging Heights is and why they were there.
The short film, called "The Fisher Boy," interviewed children who had been rescued from slave labour on Lake Volta and even their parents who trafficked them. An interviewer asked what it was like, and asked care givers why they would do such a thing. The children explained in detail how they were beaten if they were slow in their fishing duties, and mothers claimed that poverty made it hard to care for their children and selling them was the best option at the time. They may or may not have known the traffickers who requested the young workers, but they said they didn't realize that the children would not go to school or that they would be abused.
There were shouts and yelps from the viewers as they saw close up shots of bad scars, humpbacks, and other uncomfortable permanent damage on the children. One boy showed how gruesome his eye became when he lost it from a beating.
Throughout the film, Alfred held the microphone, translating the English subtitles into Fante, the local language in Senya. When people seemed antsy, he paused the movie and drew back their attention. He kept the crowd entertained and engaged, while making sure they understood what really goes on when families send children to Lake Volta.
It was evident that many in attendance hadn't known the atrocities, but others among the faces had been rescued child slaves themselves, or even traffickers or former Lake Volta fishermen.
After the video, some children who had been reintegrated by Challenging Heights greeted the staff and showed their friends in their community how they know these strangers with the projector.
More than fifteen people spoke to Challenging Heights staff, reporting cases of child trafficking that they hadn't realised could be such a disturbing problem. Names were written down and contact information exchanged. One man explained that he had been working on the lake himself and he actually knew many of the faces showed on the video. He seemed eager to share his knowledge and help Challenging Heights in their efforts in the future.
It's from events like this, where Challenging Heights staff speaks directly to the families who are likely to send their children into forced labour, that they may think twice and look into alternatives for making money to raise their families.
Education is a key to preventing child labour and keeping children in school.