Continuous vigilance needed to prevent child trafficking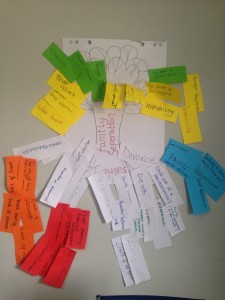 Today, 20th September 2015, through Senya Police Service and Challenging Heights collaboration 5 children were potentially saved from being trafficked into forced labour. Human trafficking is morally wrong and strongly prohibited by the Human Trafficking Act, 2005 (Act 694), which makes it a criminal offense liable to imprisonment for a term of not less than five years.
Yet Ghanaian children are trafficked every day within and across our borders. Often children are trafficked in plain sight, across police checkpoints and using commercial vehicles.
Exemplary screening of vehicles by the MTTD of Senya Police shows how rife the problem is, with a single checkpoint identifying 5 children suspected to be trafficked in only one night. Instead of being denied their right to education and possibly being taken to work as slave labour in the fishing industry on Lake Volta, these boys and girls are now either safely in protective custody or back with their families.
Challenging Heights believes that this represents a fraction of the many children who are trafficked on our roads on commercial vehicles and across police checkpoints every day. Children whose hopes, education and opportunity are callously traded for a life of forced labour, abuse and bondage.
Challenging Heights calls on commercial drivers and passengers in Ghana to ensure that no child is trafficked in Ghana. It is every citizen's responsibility to watch out for vulnerable children in vehicles and report suspicious cases at the next police checkpoint.
We also remind all officers and barrier personnel of the police directive issued by the IGP on 5th June to systematically check all vehicles for trafficking, and to respond promptly to potential trafficking cases reported to them at such checkpoints. Only by all working together can we Turn Back Human trafficking in Ghana and give our children the future they deserve.