CHS student advocates against child labour after his own time enslaved on Lake Volta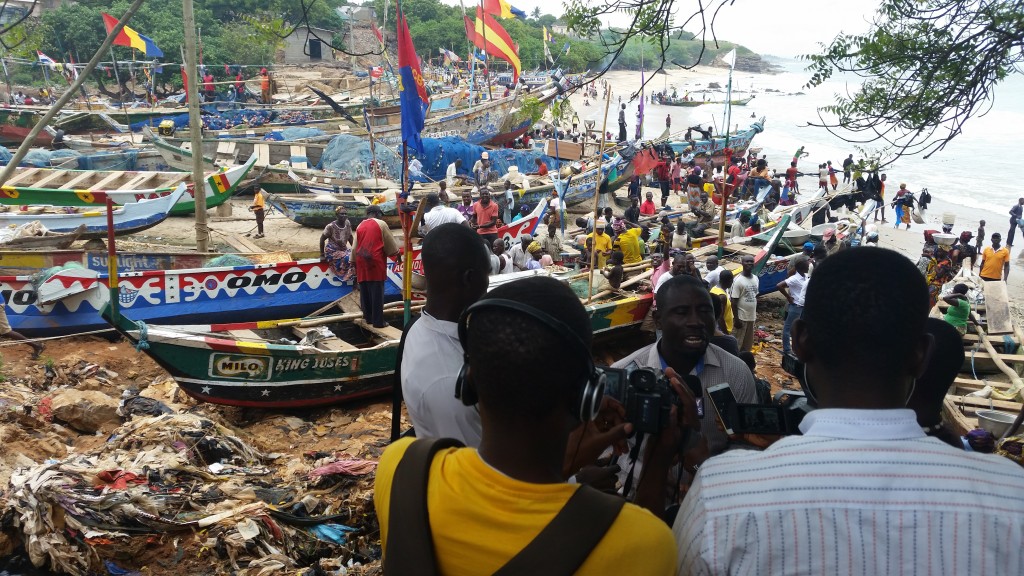 He wants to be a soldier and eventually launch a career in computer engineering. These goals of success and stability wouldn't have been possible for Samuel just five years ago.
It was then, in 2010, that Challenging Heights rescued this 14 year-old from slave labour on Lake Volta. He had spent most of his life on the lake, doing everything from dragging the nets on the fishing boats, to scooping water from leaky boats and helping to sell fish that were caught.
In his days on the lake, Samuel didn't realise what opportunities could be available if he had been in school instead.
At Challenging Heights School now, Samuel is a member of the Cadets Programme, which is an extracurricular activity that trains students in military fashion. As a cadet, Samuel marches in formation and participates in group jogs and fitness sessions. He says he serves as a guide when students travel in groups or walk in parades; he ushers everyone to move together. It's the structure and order of the Cadets that Samuel most appreciates, and he hopes to use his experience as a stepping stone into the Ghana Armed Forces.
In school, ICT (information and communication technologies) is this Class 6 student's favourite subject. Before coming to Challenging Heights, Samuel had never used a computer. Now, he wants to turn them into his career.
Before the lake, Samuel said he had been in school only briefly. He was sent to work as a very young boy by his mother, who owed a debt after his father passed away. When his dad died, the people who were owed told his mother to give them her sons to work off the debt.
Through community vigilance and investigations, Challenging Heights learned that Samuel was on the lake and where he was working. The field team negotiated with his traffickers to bring him back to Winneba. He spent some months in rehabilitation at the Challenging Heights Shelter and that's where he chose his next step: to go to school.
Once he was safe from his traffickers, he told the Challenging Heights team that he had two older siblings who had also been sent to work on the lake. He said that when they heard he had been rescued and he was in school, they told the traffickers they wanted to be free, too. It took Challenging Heights' efforts, though, to rescue them and bring them back to Winneba. Since the two were older, instead of going to school, they chose to learn a trade.
On the lake, Samuel received no formal schooling. Before he was rescued, he says he could not read or write. It's only because of Challenging Heights and having been rescued that he says he can read and write and communicate in English.
Through education and Challenging Heights School, Samuel says he is able to socialize in a way he had never been afforded. Even during school vacation, he wishes he could be at school so that he can be with his friends, exchange ideas, interact and learn. Samuel credits Challenging Heights with introducing him to computers and information that will carry him through to more schooling and a successful path in life. With genuine appreciation, Samuel is proud to become educated.
He says he feels safe in Challenging Heights School; even the fence and gate itself help him feel like there are no threats to harm him. He sees the school as a larger family, where people from different backgrounds can come together.
Only through Challenging Heights, Samuel learned about children's rights. He says he's in an after-school club that discusses child's rights. It's in now knowing his own rights, which Samuel feels like he can speak out against inequality and issues that hinder children's rights. He now realises the rights that he should have been afforded, and can help others to see those. Samuel says because of everything he's been through, he knows what traffickers tell families and how they get children to work for them. He experienced the dangerous conditions and poor treatment himself, and he wants to prevent other children from the trauma that comes from working on Lake Volta.
As years move forward, Samuel says he wants to join Challenging Heights in advocating against child trafficking and child labour.
Not only in school, but in his daily life, Samuel is actively engaged. He says he now listens to the radio a lot, and when issues about child trafficking arise, he listens intently.
It's in sharing his own story, Samuel says, that he wants to tell the world about child labour and child trafficking from his own perspective. He wants all children in school, far away from the dangers of the lake and on the path to success and empowerment.