Behind the Scenes at Challenging Heights School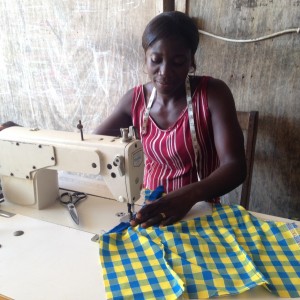 School uniforms and classroom desks, cabinets and chairs, are sewn and built on site at Challenging Heights School.
As teachers get ready for children to arrive for the next new school year, staff on all parts of campus are working hard in preparation.
Richard is the Challenging Heights carpenter; he's sawing, drilling and hammering everything wood. When children's desks are broken, he repairs them. He puts together cabinets for the Challenging Heights Office, as well as bookshelves and chairs. As Mr. Fix-It, Richard is on call to make repairs at all Challenging Heights properties.
When running and playing, it's not uncommon for the children to abuse the bright blue tailored shorts and yellow and blue checkered shirts and dresses that they're told to wear neatly. Charity and Joanna are always hard at work, sewing new uniforms to replace ratty ones or getting them ready to welcome new students to Challenging Heights.
Charity is a graduate of the Challenging Heights Livelihoods Programme. She took part in the Youth Empowerment Programme, learning new skills and receiving a certificate, before getting hired as a seamstress for the school.
We often see Charity working the sewing machine pedal with one of her small children tied around her back, as her other older children are students at Challenging Heights School.
David Kingsley Adams, known as just, Adams, is the Challenging Heights School busar. He keeps school records, financial transactions, and issues receipts.
He's spent two years at Challenging Heights, and before that, Adams says he worked in a similar job at a different school. He says he's happy to be here, and enjoys the math and calculating of his role. He collects the subsidized school fees from parents and works with the Challenging Heights finance team as they adjust budgets.
These are just a few of the staff who comes to work each day, excited to be a part of the Challenging Heights mission.