URGENT: Police Action Needed to Save Ghana's Children from Trafficking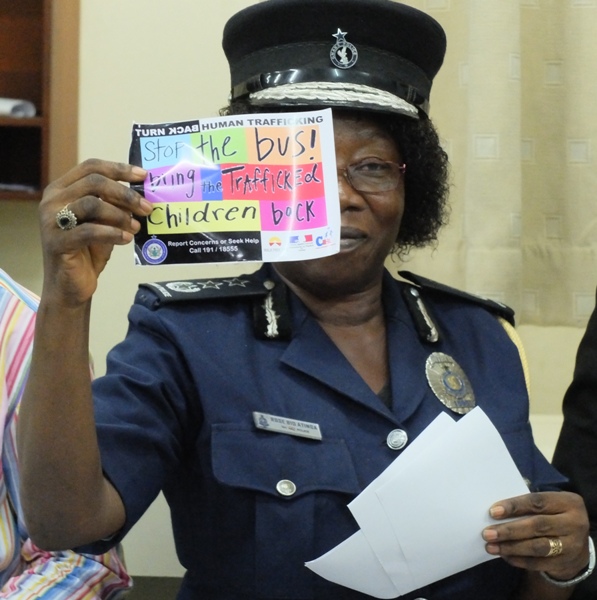 Challenging Heights is happy to acknowledge that the Motor Transport and Traffic Directive (MTTD) of Ghana Police Service in Senya Beraku in the Central Region has complied with the directives of Ghana's Inspector General of Police (IGP) to screen vehicles for child trafficking. Challenging Heights is therefore calling on all police officers, especially at various police checkpoints, to comply with the IGP's directive as well.
The IGP issued directives to police on the 5th of June 2015 at the launch of the TURN BACK Human Trafficking campaign in Accra. Challenging Heights has continued to engage with various MTTDs to ensure that the directives are implemented.
The result was that on 14 August 2015, the MTTD and Ghana Police Service in Senya Beraku in the Central of Ghana, in collaboration with Challenging Heights, screened vehicles and distributed hundreds of anti-child trafficking campaign stickers to drivers while educating them on the dangers of child trafficking and their role in addressing it.
Challenging Heights supports this compliance and joins the public to ask all other public officers especially at police checkpoints to check all vehicles and screen them for child trafficking.
Screening vehicles for child trafficking is most urgent in this period of the year, during school vacation; it is when hundreds of children are trafficked especially to Lake Volta, for forced labour. We call on the general public to report suspect passengers at police checkpoints for action.
Currently, 49, 000 children are working on Lake Volta. Of this number, 21,000 are engaged in hazardous child labour – work that is dangerous to the lives of the children. This is the time no child should be allowed to add to the number of children working on Lake Volta at the cost of their lives and future.
Challenging Heights is a child rights organization and our vision is "a world where every child is in school and lives in a loving and caring family.
For interviews contact:
David Kofi Awusi, Advocacy Manager
Cell: 0240577480 or advocacychghana@gmail.com