Best behaved students rewarded with a trip to West Hills Mall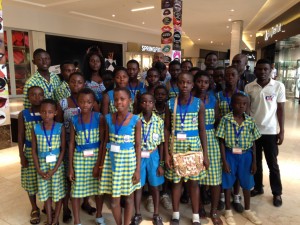 Bright-eyed, but quiet and nervous, twenty-two students from Challenging Heights School split up into groups of four and cautiously stepped onto the elevator at West Hills Mall in Weija, just outside Ghana's capital, Accra.
The mall would be considered up-scale in any modern country, but for these students, tiled floors and air conditioning was a thing to behold. They had never before experienced the rise of an elevator, the downward shift of the escalator, or an automatic hand dryer in a bathroom.
The children ranged in age from 10 or 12 to 16.
Instead of violent punishment as most Ghanaian schools practice, Challenging Heights School works to reward good behaviour and discipline, not with caning, but with tedious tasks and clean-up duties. Good behaviour is encouraged with positive incentives.
At the end of every school term, the students who qualify for the "Roll of Honour," receive prizes of some kind. In the past, they took home books or school supplies, toys and stuffed animals. This term, the five teachers who make up the Roll of Honour committee, decided that a field trip would incite excitement.
About a dozen of the younger students in nursery and primary grades received a special meal to mark their good behaviour for Term 3. The children sat patiently as they saw the containers of jollof rice and sausages sitting under a mesh net to keep bugs away. Sir Lewis and Sir Timothy, who lead the Roll of Honour committee, explained to them why they were being rewarded.
As this took place inside a classroom, hoardes of other students watched from the doorways and windows, eagerly wanting to take part. The teachers told them, too, why these dozen were getting a special meal, and told them that they could be rewarded after the next terms if they followed the Code of Conduct, too.
After the youngest children ate and were dismissed, the older Roll of Honour students piled on to the Challenging Heights bus as the rest of the school looked-on. About an hour and a half later, the children arrived at West Hills, ready for their adventure.
With great interest, the students began to ask questions. One group of teenage girls was astonished to know they could walk into a jewelry store, just to look, without purchasing anything. They learned about how the freezer system at the grocery store worked and tried out a foaming soap dispenser in the washroom for the first time.
As they wandered the mall and walked into different stores, they gained confidence and asked more questions of the staff involved. They wanted pictures snapped of them with various items and in front of colorful displays.
Once the group met again, they enjoyed meals that were made and packed with care by their teachers and the Challenging Heights house mothers; jollof rice and fried chicken with vegetable pasta salad. The teachers on the field trip wanted to get the students an extra special treat from the mall: ice cream bars.
An afternoon that started full of nerves and unknown anticipation, ended with a bus load of more confident, knowledgeable students. They acknowledged themselves that they had learned so much and had a wonderful time. It was clear to see the transition from overwhelmed and unsure, to excited and pleased with all they had seen.
The bus ride back to Winneba was lively, full of singing, dancing and laughing. They couldn't wait to get back and share with their families and friends at home.