Transforming rescued children at the Challenging Heights Hovde House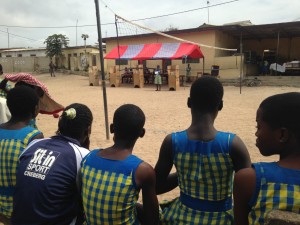 "It's a great feeling 'cause you get the chance to transform someone who has never been to school before, and you see such a child writing his or her name, it's amazing."
The life of a social worker at the Challenging Heights Hovde House Rehabilitation Shelter is more than checking in on a child every once in a while. Anna Frimpong and her colleagues live with the children and help care for them, as well.
Anna graduated from university in Accra, studying social work and psychology. Before joining Challenging Heights, she worked with Canada World Youth, among other jobs. She says she couldn't be happier at the shelter, as she always wanted to work with children and enjoys seeing progress in those Challenging Heights rescued from slave labour.
She acknowledges the difficulties; some children were sexually abused. She said they may come to the shelter shouting and upset, but she and the other shelter staff work with them until they are well-behaved. She teaches an etiquette class once a week for the girls at the shelter, "to groom them as a lady," as Ghanaian culture calls for women to act appropriately.
Along with behaviour expectations, Anna and her colleagues teach children's rights. She says the girls will meet together and discuss female-centred issues like menstruation and sexual issues. At one time, Anna says the girls were not letting their undergarments dry properly as they hung their washed laundry on the clothes line. She said they would put their underwear underneath towels or other clothing to hide them, saying that if the boys saw their underwear; the boys would make fun of them. Anna and her colleagues met with boys and girls to explain that teasing will not be tolerated and that the girls needed to hang their laundry just as everyone does.
These are all topics that Anna says are never broached if a child spends an entire life on the lake. She says some girls are born there. One girl at the shelter was just three months old when she was trafficked to Lake Volta.
"When they come here initially, they come with so much anger, and then it gets to a time where you get so close. The child comes to you and tells you how they feel, how they are happy to be here, how you love them, and they've never felt something like that. It's amazing," explains Anna.
Our Hovde House shelter accepted a group of children from the Mercy Project this year. Anna says that some of them were so young when they arrived that they didn't know anything different. At first, they wanted to go back to fish and work on the lake, because they weren't comfortable with the change. On the first day, Anna says she saw a lot of angry faces. When the children arrived, they showed great mistrust; they would misbehave and didn't want to talk at all about trauma they went through. Anna says behaviour like that is expected after all they had been through on the lake. Soon though, Anna says she and the other staff built a rapport with the children, gained their trust, and the children participated fully.
Along with the socialization aspects of her social work role, Anna also becomes a care taker to the children as they stay at the Hovde House. She said she will help the children with their hygiene, homework and chores.
Anna and the care staff work for 20 days in a row, before taking ten days off. Since they live at the shelter, they are available at any hour of the day to speak with a child who may need counselling. She gives regular PTSD screenings, to check on how the children are handling trauma that they encountered while working on Lake Volta.
Anna enjoys her work and watching the rescued children grow.
"Children are amazing. They learn from us, so I just believe we should try to be watchful the things we say and the things we do when children are around."
She hopes that others will take the time and effort to make sure children in Ghana have rights and are cared for properly.