A traditional naming ceremony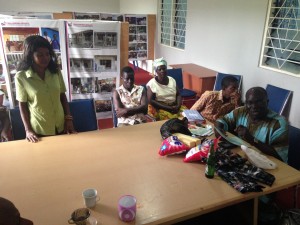 As the Challenging Heights Community Stakeholder's Manager, Mr. Mensah settles disputes between families quarrelling about who should be responsible over a child.
In one case, a man impregnated a woman and she had a little boy. For years, though, the man never accepted his role as the child's father.
In Ghanaian culture, the father is supposed to name a child, but when a father is absent from child-rearing responsibilities, the child may not ever be officially named.
The mother in this case went to Mr. Mensah with a complaint that her son's father has not ever helped financially. Through mediation, Mr. Mensah convinced the father to take responsibility and in doing so, the father is now allowed to name his child. The father is traditionally the person who names a child. A public naming ceremony was held at the Challenging Heights Office, with both the man and the woman's families in attendance.
The boy is now three years old. Naming ceremonies typically happen when a child is a few weeks or months old, but they typically only take place when the father is present. The family knew that the father wanted to call the son after the current minister of Winneba, Hon. Alex Afenyo Acheampong, but since there had not been a formal naming ceremony, the family called the boy, "Honourable," in the mean time.
At the ceremony, a traditional song is sung, before the family's elder speaks to the group.
Two cups are served. In one cup, water is poured; in a second cup, soda is poured. The two are then mixed together and the mother drinks part of it; the father drinks part of it, and the rest is tossed under the father's legs, to represent the desire to be fruitful and welcome more children to the world. At this time, the child is named and the family claps in celebration.
The family and others in attendance enjoy minerals (soft drinks) together before parting ways.
In this situation, with Mr. Mensah's intervention, the two families pressured the father to step up and take responsibility for his child. During the ceremony, the father and mother sat next to each other, but they are not a couple and appeared cordial for naming.
The boy, at age three, wore a traditional white outfit. He stood on the table for part of the ceremony, and after his role was complete, he crawled under the table as a typical three-year-old may. The boy enjoyed his soft drink as his family honoured him.