Youth Empowerment Project Graduate Dreams Big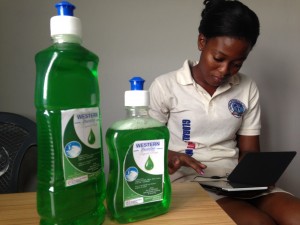 Henry, a recent graduate from CH's ICT class, is known for his enthusiasm in the classroom and inquisitive nature. "For me personally, I like questions. I want to know things and I enjoy going to school." After completing high school, Henry did not have the opportunity to attend university due to his financial situation. After learning about Challenging Heights through a friend, Henry was inspired by CH's founder, James Kofi Annan and signed up for our remedial school.
Upon graduating, Henry is has been leading a business development plan with fellow classmates to address community health relating to malaria prevention. Henry's proposal includes providing affordable priced mosquito nets to vulnerable communities. In addition, he wants to include an educational component to teach customers about preventive action and the systematic causes of malaria.
Henry and his classmate are working on a proposal to send to the bank to receive a loan to kick-start their business. Henry believes his education at the CH remedial school was essential to gain the necessary tool set, in both ICT and business development, to make his goal into a reality.
After establishing his business, Henry plans to continue his education at IMPC, a leading school in Ghana for IT education. "I see a brighter future and I have hope. This place has become a stepping-stone for me to jump to higher places."