21 trafficked children rescued from hazardous forced labour on Lake Volta by Challenging Heights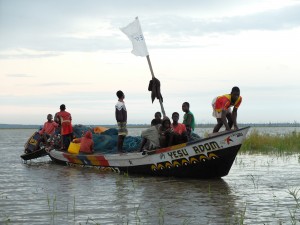 A rescue mission funded by the Hovde Foundation has enabled Challenging Heights to save 21 trafficked children from hazardous forced labour on Lake Volta, adding to the estimated 1,200 children freed by us since 2003.
During the operation, which ran from 10th to 18th October, the rescue team had to deal with angry traffickers as well as the perils of the Lake. Three young victims were snatched back off the rescue boat by an angry mob of slave-masters (what else should we call someone who keeps people captive and force them to work for no pay?) and the children's safety only secured with the support of Ghana Police. Their intervention resulted in the arrest of Kow Eyindah of Center Community for trafficking, with the detainee now helping police with their enquiries to identify and arrest all those involved in the attack. The Community Chief, Nana Kojo (Joojo), has promised to hold a durbar to ensure anyone holding a child in Center returns them to their family voluntarily.When news of the operation spread along the shore, some children ran from the communities they were held in to try and find the Challenging Heights boat. Those freed were able to guide the rescue team to other victims of trafficking, and the NGO will continue to gather information on children in need of rescuing with the help of families and former slaves. All the rescued children were discharged into the temporary care of Challenging Heights by Social Welfare, and are now being looked after at the Ghanaian NGO's rehabilitation shelter. Challenging Heights staff will work with the children's families and local communities in the coming months to find safe permanent homes for them all.
Thirteen boys and eight girls, some as young as six or seven, were liberated from remote communities around the Lake or rescued directly from fishing boats on the water. According to Government of Ghana/International Labour Organisation/IPEC, however, another 49,000 of Ghana's children remain on the lake, with 21,000 of them being forced to undertake hazardous labour there [1].
Children made to live at the lake are denied their most basic rights, such as access to safe water or the opportunity to go to school. Instead they are forced to undertake dangerous work catching fish from leaky boats. This includes being made to dive into the murky water to untangle nets from submerged jagged branches, and it is unsurprising that many lose their lives before reaching adulthood. They are amongst the more than two million children identified by the Ghana Population and Housing Census as being economically active[2]. Even more shamefully, they are amongst the estimated 181,000 Ghanaians trapped in a life of "modern slavery" today, ranking us the 18th worst country in the world [3].
We call upon the Government for stronger enforcement of our laws, to ensure these are a proper deterrent for traffickers and perpetrators of child abuse. This requires the release of funds to the Human Trafficking Board that were committed to in the last budget and full resourcing of the Anti Human Trafficking Unit of Ghana Police. There is also a need for a coordinated effort to implement the National Plan of Action (NPA) for the Elimination of the Worst Forms of Child Labour, if we are to have any chance in achieving this by the target date of 2015.
References
[1] The International Labour Organisation/International Programme on Elimination of Child Labour (ILO/IPEC) Analytical Study on Child Labour In Lake Volta Fishing in Ghana (August 2013) estimates that there 49,000 Children working on in the fishing industry on Lake Volta, with 21,000 forced to undertake hazardous child labour.
[2] According to the 2010 Ghana Population and Housing Census, there are over 2.4million "economically active" children (between the ages of 5 and 17) in Ghana.
[3] An estimated 181,038 (170,000, 190,000) Ghanaians live in conditions of modern slavery, as calculated in the 2013 Global Slavery Index.
The GSI ranks countries according to prevalence of modern slavery by population, child marriage, human trafficking, and places Ghana as the 18th worst country in the world for slavery (out of a total of 162 reviewed).