New Leadership at Challenging Heights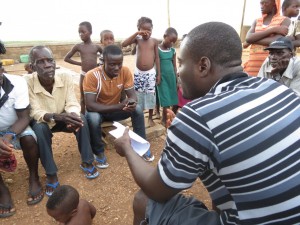 Challenging Heights, a Ghanaian human rights organization, has appointed, Dr. Yvonne Ayerki Lamptey, of the University of Ghana as the Chair of the organization's advisory board.
Dr. Lamptey holds a Doctor of Philosophy (Ph.D.) in Business Studies from Swansea University, Wales, UK, a Master of Philosophy (MPhil) in Human Resource Management and a Bachelor of Science (BSc) in Human Resource Management from the University of Ghana.
Career
She is a member of the Chartered Institute of Human Resource Management Practitioners in Ghana and affiliated with the Chartered Institute of Personnel Development (CIPD).
Dr. Lamptey began her professional career as the Human Resource Executive for the Unicorn Group of Companies, and later as the Human Resource Specialist for Compassion International, Ghana. Currently, Dr. Lamptey serves as the Director of the Human Resource and Organizational Development Directorate (HRODD) at the University of Ghana, Legon.
Other members
Other members of the Advisory Board are Professor Nana Ama Browne Klutse (a Professor of Physics at the University of Ghana), Dr. Teddy Ossei Kwakye (a Senior Lecturer at the University of Ghana), and Kenneth Mamudu (a former Manager of the National Programme for the Elimination of Child Labour in Cocoa, and currently a private consultant).
New president
The board has also appointed Cynthia Adjoa Annan, who is a co-founder of the organization, as the Acting President.
She takes over from James Kofi Annan, who is due to step down from his position, to pursue other interests in accordance with the constitution of the organization, which states that the co-founder takes over the presidency when the President resigns or steps down from the organization.
Mrs. Annan co-founded the organization in the year 2005, and has since played various roles including resource mobilization, administration and programmes.
Other appointments
Other new appointments include Enock Pufaa Dery, who is now the new Director of Programmes.
Until his appointment, Mr. Pufaa who was the Senior Manager in charge of Impacts and Special Project, has a decade of experience in human rights research and advocacy.
He joined Challenging Heights in 2021 and has led the organization in implementing several projects, including the establishment and the operationalization of the Challenging Heights Northern Regional programmes office.
Rosemary Afedzie, who has worked with the organization in different capacities for a cumulative period of 14 years, has been promoted to the position of Senior Manager in charge of recovery.
Ms. Afedzie holds a BSc degree in Administration and benefitted from several training programmes in social work, trauma-informed therapy, and children's right, both within and outside Ghana.
Joyce Abena Annan, who is now the Monitoring and Evaluation Manager of the organization, holds a Master of Science (MSc) in Climate Change from the University of Ghana.
Until her current promotion, she worked with the organization as a Monitoring and Evaluation Officer for a cumulative period of four years.
Sandra Anyane Boanima
(Communications Officer)